DEVOTION
A Sacred Invitation to Birth Your Most Powerful Self.
A Call to Rise Into Your Wisest And Wildest Womanhood.
If experiencing your core value of freedom was as easy as remaining undecided and un-invested, then why do you still feel trapped?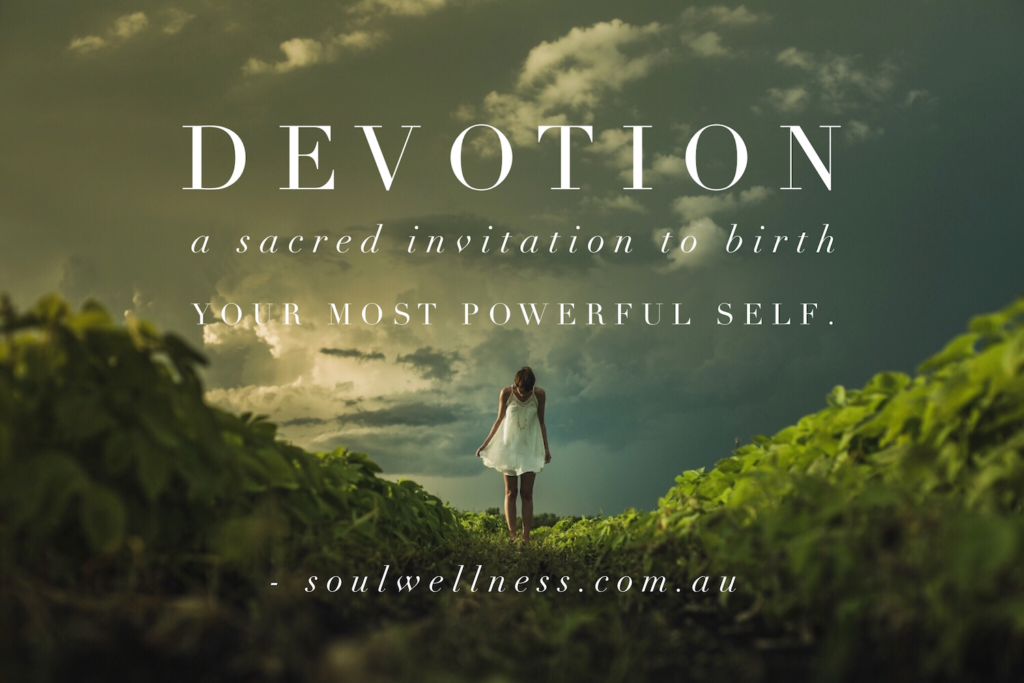 If You Currently Find Yourself:
// Pulled into roles you're expected to play, whilst cringing on the inside.
// Supporting the dreams (and dramas) of others instead of investing in your own visions.
// Telling yourself you're not 'ready yet'.
// Dreaming of one day, believing that your real life will transpire when the 'right' moment comes along…
Isn't it time you stopped floating and started devoting to a path of your own instead?
How Often Do You
// Say 'yes', when 'no' feels too difficult to say?
// Take the next logical step, even though it doesn't feel entirely right?
// Go with the flow, because it seems like the easier option?
// Shape your-self, your words, your actions, to control the outcome of your life?
// Give away your power, by allowing others to make choices for you?
// Value the opinion of others, above courageously following your soul calling within?
So here you are, neither fully here nor fully there.
One foot on your path, and one foot decidedly out.
Which Means You're:
// Easily swayed from one shiny solution to another.
// Constantly seeking validation and acceptance in the small, subtle interactions with those around you.
// Hiding your true self beneath whatever mask suits the occasion.
// Seeking to be saved – holding out for something or someone to make life better.
// Not investing in your soul gifts, talents, visions or desires.
The most painful part of it all is that you've probably convinced yourself you have commitment issues.
You're simply "not ready yet".
That valuing your 'free spirit' means dancing from one adventure to the next, cheekily flying under the radar, and rebelling against convention.
I get that. I sold myself that story for a long time too.
But the truth is, as I've discovered many times…
You're fully capable of commitment. 
You've simply not experienced commitment in a way that celebrates and serves your soul.
Feeling free ultimately comes down to taking a deep breath, taking a step into the unknown, and embracing devotion.
Please hear me when I tell you: everything you've ever learned or experienced has readied you to live with devotion to your soul's calling.
This is a choice-point for you: choose to live alive with devotion, or continue on the path you already know the outcome to.
Which will you choose?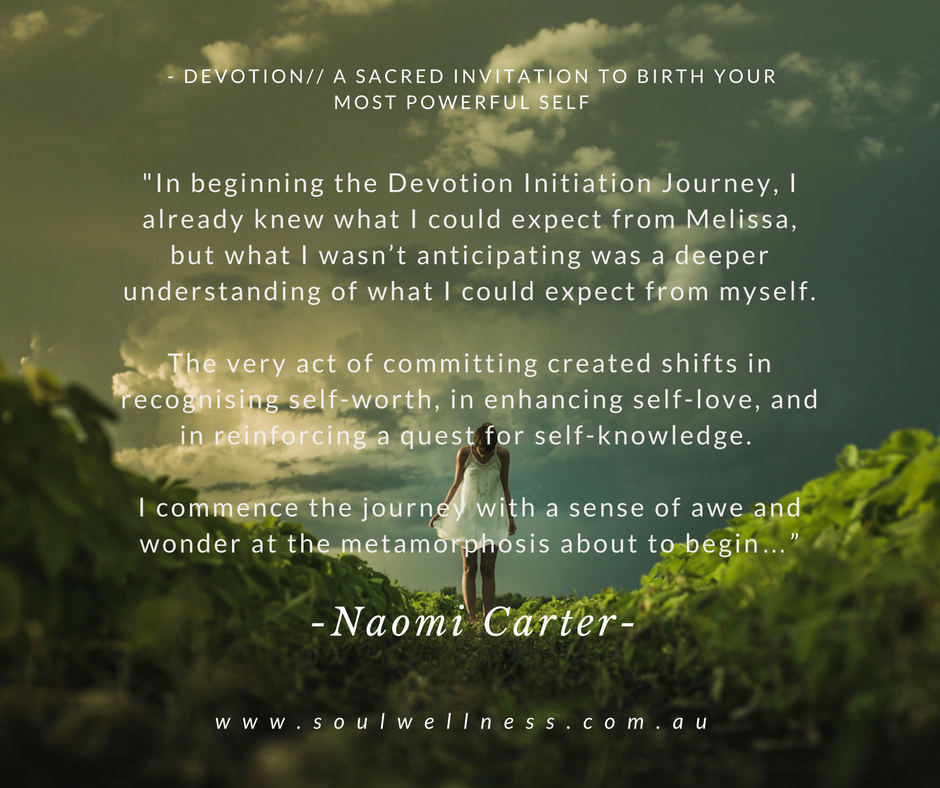 Imagine For A Moment
At this choice point, lets imagine for a moment you choose to continue on the way you are, scattering your energy, your vital creative life force essence.
This Means:
// Your dreams die a premature death — before they've been fully discovered.
// You attract other people's drama – because you've collapsed your soul's boundaries.
// You make fear-based decisions that keep you small and contained.
// Your wildness is bursting for expression, which often comes out in destructive ways.
// Your precious creative fire smoulders, and your aliveness remains diluted.
This is what happens when you give your power away to the people, places and priorities that aren't aligned with who you really area.
You could continue procrastinating and inevitably – someone or something other than you – can choose for you.
Or you could stop wasting your time, energy and life.
You could choose the path of devotion.
That's the choice I've made for myself.
From where I stand, it's an incredibly powerful place to live.
And it only happened because I (finally) got the courage to ask for more.
The Beginning of My Devotion Story
March 2014.
I'm at the Big Hearted Business Un-Conference, watching Danielle LaPorte stroll across the stage. At one point she said:
"Some of you will stay in marriages you're not meant to stay in."
I felt my insides crumple, my heart cave inward, and my throat constrict.
April 2014.
"Are you wasting my time?"
I was standing in the kitchen, looking directly at my then husband.
We'd been married for 5.5 years, and yet another promise had been reneged on.
We'd gotten married quickly. Engaged after only 7 weeks of dating, and married 5 months after that.
The spontaneous, adventure loving part of me thought "well, won't this be an incredible story if it works out?"
The more conservative practical part of me thought "am I really going to do this?"
The night before my wedding, my intuition begged me not to.
And still I did.
What followed were years of the classic healer/narcissist relationship pattern.
I believed that my abundant love could fix anything, and my desire to help and heal him came before anything else, including myself.
When my power did re-build, he would create a catastrophe or an argument, which sent me into a depleting emotional spiral.
All the while, I literally dwindled away as more and more of my power was given to (and readily absorbed by) him and the relationship.
I became devoted to the idea of marriage, and the potential of what we could become.
Travel forward to that moment in the kitchen when I asked:
"Are you wasting my time?"
While this question was prompted by the acute pain of feeling devastated at the let down, and necessarily directed at my partner, underneath it was a much more important question:
"Am I wasting my time?"
Suddenly it became clear to me, that the minutes and days which had once appeared fleeting, totalled the depth of my life. And that I had ultimate choice in how I wished to live.
This opened up other questions, such as:
Where have I been investing my energy and my focus? 
Was I really living as I desired to live?
If I continued to live this way, would my visions that I felt compelled to birth, ever see the light of day? 
And most importantly…
If I continued to deny my inner knowing, would my soul drown under suppression?
What happened next was the beginning of a necessary separation from an unsustainable relationship.
Delving deeper within myself, I found that this was a personal invitation to let go of living for others, ideals, promises, potential outcomes and living in ways that didn't serve my truth, my heart, and my soul.
What Did My Separation Have To Do With Devotion?
Well in that moment, I let go of trying to control the outcome of my life, and opened myself up to being supported by something far greater than myself.
I set a strong intention to let go of everything that was not working in my life, and simultaneously began calling in the support I needed so that I would feel safe in my transition and transformation.
Over the course of the following 12 months, I devoted myself to knowing and caring for myself in a profoundly new way.
I learned about my needs, my relationship to self-worth and defined what boundaries were for me.
I learned where I was placing my value, and what elements of my identity I was overly attached to.
I discovered the marriage I'd been craving, was really the inner marriage of my internal self.
That the home I'd been aching to create, was the home within myself and my heart.
And the adventure I'd desired to go on, was really the adventurous discovery of my wildest most powerful self.
I allowed myself to fall in love with life again, to come alive, and fall in love with creation and change – the natural cycle of all of life.
Above all else, I began to trust the god/goddess-soul within, the one that I professed belief in, though selectively acted upon, even though my discernment and intuition urged me to listen.
I Learned The Essence of Devotion Through:
// Healing processes which took me halfway across the world, and down into the under-world of my soul.
// Re-kindling my relationship with creativity
// Observing and intuiting my body as a reflection of my life
// Embodying the power of self-responsibility. Learning self-responsibility has been paramount to creating a more empowered experience of life.
// Developing trust in myself, my knowing and going where I was called, even if the outcome was unclear.
This remains one of the greatest gifts of my life… becoming more comfortable with, and less resistant to, stepping into the un-known.
I've learned, and continue to be reminded, that the space of the unknown beckons forth the real magic of life.
It's the space of infinite potential and creation of soul-aligned opportunity.
During This Time I:
// Called in new teachers that compassionately challenged me forward.
// Developed new relationships with soul-sisters and brothers, many of whom became my medicine over the course of my year of Devotion.
// Fell in love with old Archetypal stories of women learning life lessons, and the stories of the Goddesses. Each story unravelled something within me, and lit up a part of my soul that had been buried underground and forgotten about.
// Clarified the essence of what I genuinely desired, and followed the path towards realising those desires into form.
// Found my true confident voice; the one that had always desired to be heard and expressed.
// Created a powerful relationship with the fire element within me.
As the internal environment of my body shifted into alignment, I felt the energetic foundation of my life shift too.
Then came the purge, the letting go of everything that wasn't working in my life… powerful, rapid, yet completely supported all the way.
And I, who had always adored the lighter side of myself, learned to love, embrace and live with the shadow self far more.
This is where the gold of soul is always found, and where I discovered my power had been hiding all along.
Through the purge, I continued to develop deep trust and reverence in relationship with the god/goddess-soul within, and to the devotion of bringing more of myself to the eyes of the world.
As I did, I was gifted with the flow I had been seeking.
By the time I emerged from the shadowy darkness, I had integrated through healing a powerful part of myself I had not known existed, into wholeness.
And my connection to self and purpose had become embodied.
Through devotion, I found liberation.
My personal journey of Devotion certainly did not end after 12 months.
This was only the beginning; the extraordinary awakening.
As I continue to follow my path and grow in personal power, I discover deeper levels of self-devotion every single day.
It's Time To Write Your Devotion Story
Devotion is for soul warriors.
It's for those who desire to transcend feeling stuck and limited by the physical world.
For those who wish to live abundantly, impacting humanity on a deep level.
I've lovingly crafted a journey that will help melt away your feelings of separateness, of being un-recognised and un-heard, so you can bring all of yourself to the world.
If you're officially done with believing the false promises of quick fixes and you've over skimming the spiritual surface, this is for you.
Devotion is 12-month initiation journey for those who feel called to claim their creative fire –
the ultimate source of your power.
It's a sacred invitation to birth your most powerful self.
A call to rise into your wisest and wildest womanhood.
You Receive
// Your choice of weekly or fortnightly support
// Personalised Integration Practices
// Optional connection with a fellow Devotion sister
Choose Weekly or Fortnightly Support
Each week or fortnight, you'll have an open, honest and compassion filled 1:1 session with me, to help guide your Devotion journey.
~ Weekly Support ~ 
Weekly support is offered in two ways:
52 x 60 minute 1:1 sessions, delivered in person or via Skype/FaceTime.
Fortnightly 90 minute 1:1 in person sessions in Elwood, Victoria, and on the alternating weeks, receive a 30minute Skype/FaceTime check in session.
~ Fortnightly Support ~
Receive 26 x 90 minute 1:1 in person sessions with me at my practice space in Elwood Victoria, via Skype/FaceTime, or a combination of both.
Integration Practices
// At the end of your session, you will receive integration practices to support your journey in between our 1:1 work together.
The practice you receive will stem directly from your session, and potentially draw on story medicine, breath work, grounding and embodiment practices, meditation and visioning, archetypal journeying, writing and journaling, and sacred symbology.
Essentially, you'll receive what you need, every single time.
Optional – Connect With a Fellow Sister
// One of the elements I continue to value the most as I walk my path of Devotion, is having soul aligned sisters to share my journey with.
During my initial stages of Devotion, they helped me feel that I was not alone in my next level awakening, and also helped me to see the lighter side of the profound shifts that were unfolding.
The conversations we shared, and the flow on effects of the connections we established, are gifts I cherish to this day.
So during your Devotion initiation journey (upon your request) you'll be paired up with a fellow sister who is also travelling her path of Devotion.
Expect to Claim Power Through Processes Focused On:
// Grounding practices which help you develop your senses and support your spherical expansion.
// Reconnecting with and developing trust in your abundantly wise heart.
// Healing your mother-line, and claiming the sacred feminine wisdom of your ancestors.
// Healing your father-line, and recovering gifts of self-worth, power and value.
// Developing your relationship with all aspects of self –  your inner child, mother and wise woman.
// Evolving your relationship with your inner masculine and feminine, and coming into sacred union with your soul.
// Calling in your soul fragments, re-claiming your power and honouring your natural gifts.
// Discovering your soul fire. This is especially potent for those who have been told they're 'too much' most of their life, so learned to dull their flame to be accepted and to 'fit in'.
Together we'll journey for an entire year together.
Imagine that for a moment.
Where would you like to be in 12 months time?
And, who would you like to be?
If these questions resonate with you at a deep level, and at the same time, make you feel excited and nervous, take that as a positive sign.
Because this initiation journey is for those lovingly and compassionately committed to doing the work of living life with devotion.
The transformation that DEVOTION facilitates will bring your truth to the surface.
Which Means:
// No more living in the shadows of your dreams.
// No more hiding who you are.
// No more sacrificing your energy and time for causes and commitments that don't fully serve your soul's evolution.
// Rising with integrity and authenticity, and feeling what true embodied power feels like.
// Living the life you've always truly desired.
My invitation to you to show up,
is also a call for me to rise.
And I have learned, when we rise together, the impact of change is profound. 
You could ignore this call and continue scattering your energy.
Or you could discover your deep purpose and creative potential: and devote to that instead.
This is for you dear sister, who is called by a tremendous knowing that it's time to rise into your absolute magnificence.
From my deep heart to yours,
I invite you to join me for
DEVOTION.
Accept Your Invitation
Devotion is by application.
Why 'by application'?
Because it's important for us both to know you're devoted to the Initiation Journey you're about to embark on.
To accept your invitation, simply download and complete this form: DEVOTION Application
As you complete the first five questions of your application form, you'll become increasingly aware of your level of devotion to personal growth and self-understanding, and your answers will be illuminating for us both.
The final sixth question will help me understand you a little better.
Update: I'm currently at capacity with Devotion Initiation Journeys.
The next available start date is: January 15, 2018.
To begin your journey at this time, send your application in now, as the next places will quickly fill. 
To begin working together now during casual 1:1 sessions, click here.
If We've Not Yet Worked Together
Click here to book your complimentary 15 minute conversation so we can connect and know we're aligned before moving ahead.
After we chat and you've decided Devotion is for you, complete your application form and email it directly to me: melissa@soulwellness.com.au.
Please also confirm which level of support you'd like: weekly or fortnightly.
If We've Already Worked Together 
Complete your Devotion Initiation Journey application form, and email directly to me: melissa@soulwellness.com.au.
Please also confirm which level of support you'd like: weekly or fortnightly.
Investment
~ Weekly Support ~
// $1,690.00 x 4 quarterly payments, or
// $564.00 x 12 monthly payments.
This payment option is for weekly 1:1 sessions
~ Fortnightly Support ~
// $1222.00 x 4 quarterly payments, or
// $408.00 x 12 monthly payments.
This payment option is for fortnightly 1:1 sessions
Alternative payment arrangements can also be made.
Your Devotion Journey Begins
When you say 'YES'.
Update: I'm currently at capacity with Devotion Initiation Journeys.
The next available start date is: January 15, 2018.
To begin your journey at this time, send your application in now, as the next places will quickly fill. 
To begin working together now during casual 1:1 sessions, click here.
The Devotion Initiation Journey remains permanently open, so you're able to apply when you feel it's the right time for you.
If you're ready to begin your Devotion Initiation Journey now, download your application form here: Devotion-Application-Form
If you have any questions, please let me know via email: melissa@soulwellness.com.au
Much love and soul wellness,
Melissa xx