Are You Ready to
Awaken New Power?
Your Soul Alchemy Session is the starting point to receive your personal Soul Alchemy Code: a high vibration activator of energy, which activates within you the qualities and soul gifts ready to be embodied by you at this specific point in time, on Mother Earth.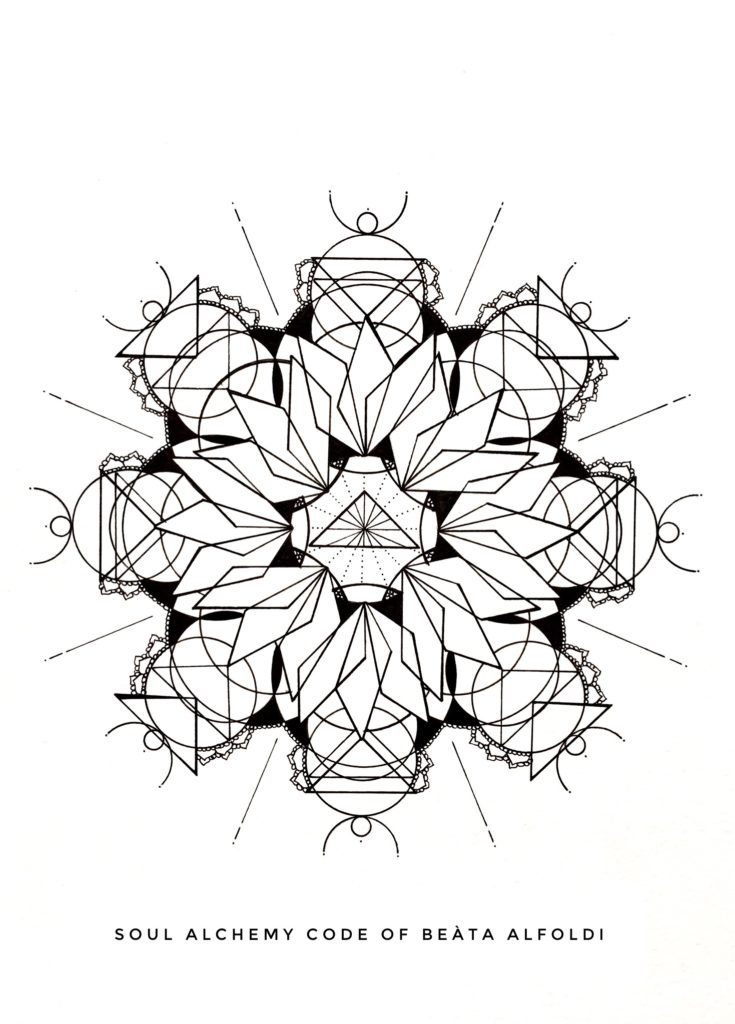 "Last week I received a Soul Alchemy Session with the very gifted Melissa Farrugia. She worked with me for about an hour and guided me through a process of deep activation and healing. I highly recommend Melissa's session for any individual who wants to step into a more aligned vibration in their lives and into what they want to create consciously. I felt rejuvenated and deeply connected after our work and I loved every moment of our time together."
– Beata Alfoldi, beataalfoldi.com
There are four layers that weave together to create your Soul Alchemy Session
Soul Alchemy Activation Session
Drawing your Soul Alchemy Code
Channeling Guidance
Receiving your full Soul Alchemy Report and hand drawn Code
Part One: Soul Alchemy Code Activation Session
We begin your Soul Alchemy activation session with grounding techniques to ensure you are fully present in your body to receive the activation. I'll also tune into any resistance, patterns or belief systems needing to be healed before you receive your activation.
Once you're in a fully grounded and receptive state, I'll guide you through a visualisation process to call in and claim the galactic blue print you're receiving. This process activates the qualities and gifts you're being called to integrate at this time, within your body and energetic framework.
Your personal Soul Alchemy Code is the vibrational imprint of your blueprint, which you will consciously work with over time, to fully embody the qualities and gifts ready to be birthed through you at this time in your life.
To close your session, I'll guide you through embodiment techniques to assist integration.
Where does my Soul Alchemy Session take place?
I guide you through your Soul Alchemy Activation Session via Skype. Afterwards I go directly into drawing your Soul Alchemy Code.
Allow up to one hour for your Soul Alchemy Code Activation Session.
Can I receive my activation in person?
Activation sessions are offered exclusively via Skype.
Part Two: Drawing Your Soul Alchemy Code
After your Soul Alchemy Activation Session, I begin hand drawing your code.
During your session, I receive insights into the foundation of your personal Soul Alchemy Code, so begin there and allow the rest to intuitively unfold.
Each Alchemy Code shows itself in layers, and over time your full code emerges.
This allows the opportunity for the code to become grounded in physical space (which is imperative due to the high vibrational nature of your code), and also the opportunity for me to channel guidance specific to the layer that has been drawn.
As I draw, I work in sacred ceremony with a specific Alchemy Code connected to the spirit guardian of all of the codes to ensure the clear channel of energy, as well as the guardian of your Soul Alchemy Code, the elements of water and fire (when combined are the elements of creation) and clear quartz crystal.
How is my Soul Alchemy Code drawn?
I hand draw your Soul Alchemy Code with black ink pens of varying weight, on 300gsm water colour A4 size paper.
As I draw, I send you progress photos of your Soul Alchemy Code so you're part of the process. Once the final elements of your code have been drawn, you receive the original drawing/imprint of your code.
Your Soul Alchemy Code is unique to you, and will not be replicated in any way.
Part Three: Channeling Guidance
The channeled guidance I receive drops in throughout your Soul Alchemy Activation Session, as I'm drawing your code, and also as I sit with it in it's completed state.
The guidance I share with you may include (though is not limited to) insight into the specific patterns and emotional wounds your code is helping you to shift through, the powers your code is helping you to embody, and spirit animals your code is connected to.
Part Four: Receiving Your Code and Soul Alchemy Report
Writing your Soul Alchemy Report is the final step.
Your report includes all of the information I've channelled through the process of your Soul Alchemy Code creation, as well as comprehensive guidance on how to commune with your code, how work with your elixir, and how to care for your body as you integrate the new vibration of energy into your body.
You will also be provided with a specific bonding process so you can connect with your Soul Alchemy Code in deeper ways, as well as provided with guidance in how to ground your code into the loving vibration of Mother Earth, so she may assist you in holding, integrating and carrying out the manifestation of your soul plan.
Due to this intricate and layered process, allow between 4 – 6 weeks to receive your full Soul Alchemy kit.
How long does it take to fully integrate my Soul Alchemy Code?
Integration is an ongoing journey.
Your Soul Alchemy Code works across all dimensions of existence and will continue to support your alignment with your most powerful soul path.
At all times you have free will to choose your next step. The activations via your code will amplify your discernment at choice points.
The transformational qualities of your code are immediately activated at the time of your Soul Alchemy Session.
This means you may begin to feel differently about yourself and your role in the world, and old patterns may be stirred up to the surface of your consciousness, so they may be seen and healed in an empowered way.
You may notice where you're playing outdated roles in your life, and where you're living up to outdated agreements that no longer support you. Opportunities to re-shape personal boundaries will quickly follow and you begin valuing yourself and your soul gifts with greater devotion.
This will be reflected in your external world by new opportunities and pathways presenting themselves,  heightened intuition, vision, discernment, and awareness of synchronicity in life.
In short, life opens up for you and offers choice points to step into new power and awakened consciousness.
Your code will support you in alchemising old patterns of energy and help heal the emotional wounding specific to you, so you grow into a more empowered and effective self.
As such, it's important to work intuitively with your Soul Alchemy Code, allowing her to guide the integration process.
I've personally been working with my own Soul Alchemy Code for the past two years, and I continue to work with her in profound ways.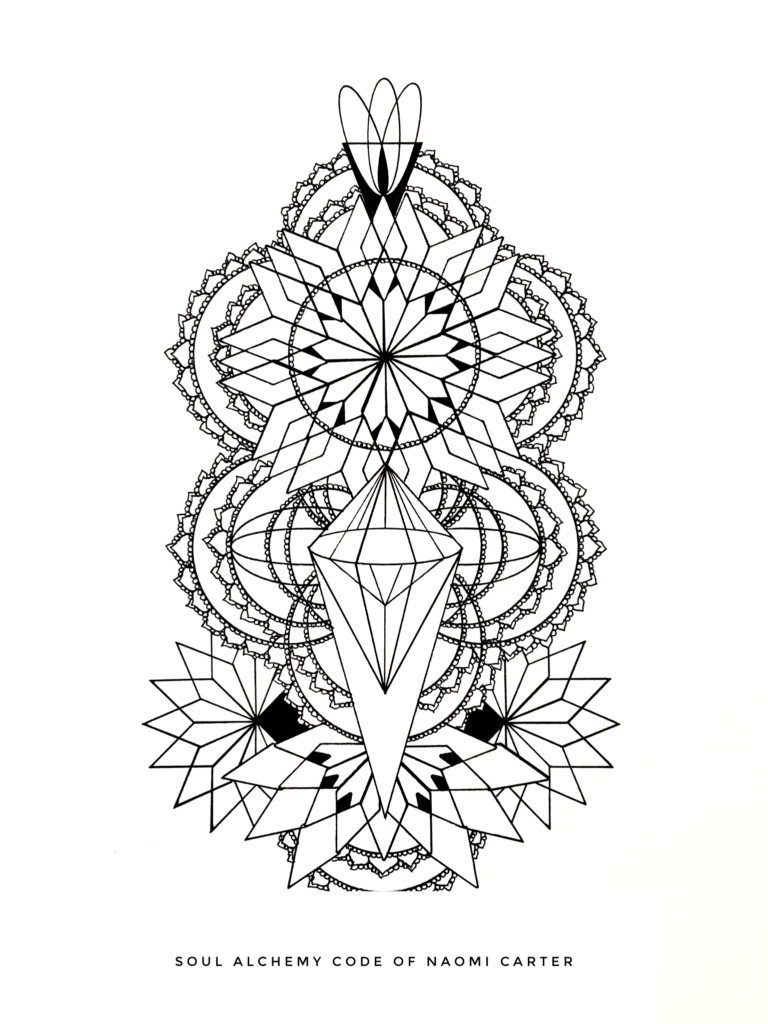 "The experience of receiving my Soul Alchemy Code was a profound one. I've felt more connected in body and mind, more connected to my purpose, to all sentient beings and Mother Earth. I've experienced subtle yet all-encompassing shifts, particularly in my ability to trust my higher purpose and let my heart and intuitive wisdom guide my decisions and communication. I engage with my Soul Alchemy Code regularly and have generated a sense of communion with her that gives me the courage and belief to trust in love."
– Naomi Carter
The Nature of Alchemy Codes
Alchemy Codes are keepers of high vibrational frequencies which, when worked with consciously, activate these frequencies within your energetic body, and become grounded through your physical body into Mother Earth, so your transformation is fully supported.
The codes carry the full spectrum of colour within their black and white appearance. Once you bond with your personal code, you may witness light vibration in the form of colour and sound. You may also see your code spin and move as it is received into your body through your Third Eye Chakra, and as it transforms and alchemises new power within your being.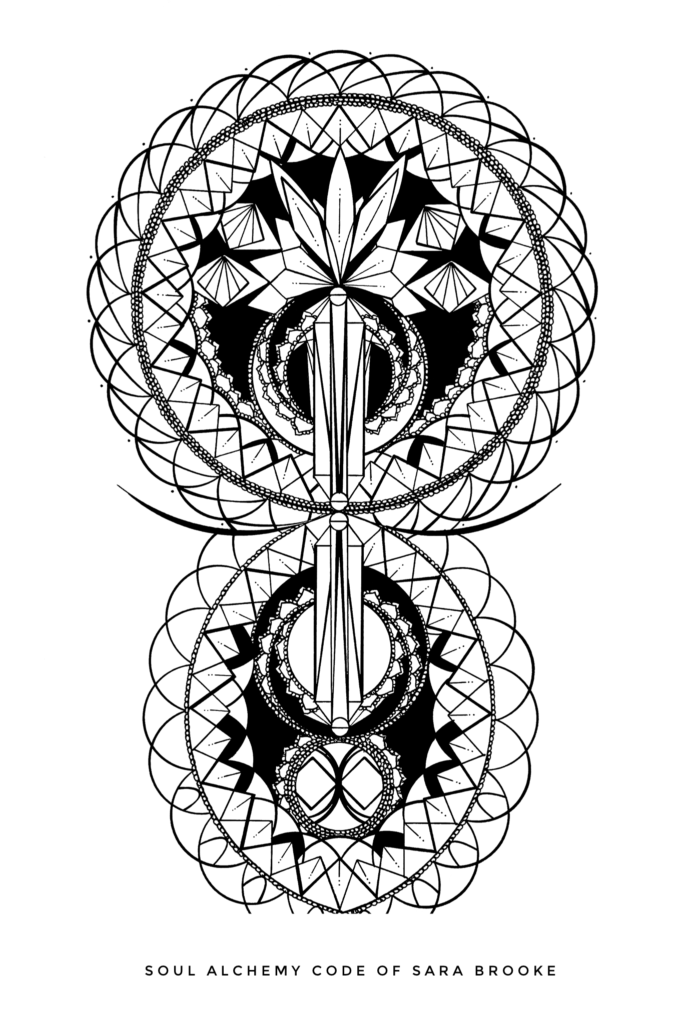 "I was drawn to get a Personal Soul Alchemy code from Mel as I was at a point in my life where it's was time to up-level. Since my Soul Alchemy Session, so much has started to shift and fall away. Old patterns I've been battling with for lifetimes, addictions losing their grip, and deep deep awakening and insights dropping in. Wow. Powerful next-level soul alchemy she is creating and sharing here!!! I can't wait to see the continued unfolding of this journey."
– Sara Brooke, The Space In Between
A Soul Alchemy Session Is For You If
// You feel resonant on a soul level to receive your Soul Alchemy Code.
// You're actively focused on personal growth and soul embodiment.
// You want to step into a more aligned vibration in your life.
// You want to consciously and purposely create in your life.
// You feel ready to embody a more empowered self.
Investment for your Soul Alchemy Session
// $680.00 AUD
Includes all service inclusions (activation session, original drawing of your personal code, and report), materials and postage.
Personalised payment options are always available.
A deposit is required upon booking your Soul Alchemy Session, with completion of full payment required on the day of your Activation Session.
If you'd like to discuss personalised payment options, let me know and we'll create a plan that feels good for us both.
Due to the intensive energetic nature of this work, limited Soul Alchemy Sessions are available (one – two per month). 
You Receive
// Your Soul Alchemy Activation Session (allow up to one hour)
// Your personal hand drawn Soul Alchemy Code. I'll also send you progress images so you're a part of the process.
// Instruction on how to create a vibrational elixir of your personal Soul Alchemy Code, so you're able to embody the vibration of your code at a cellular level. You also receive three tincture bottles for you utilise as you distill your elixir into essence form (guidance included).
// A comprehensive written report inclusive of;
–  Potent channelled messages received during your activation session and whilst drawing your code
–  A bonding process for you to experience once you've received your code, to deepen your connection with your soul alchemy
–  Guidance to assist you in working with your Soul Alchemy Code, whilst supporting your body through the integration process.
Once all of the elements are ready, I'll send your Soul Alchemy bundle directly to you via Australia Post.
How To Book & Receive Your Soul Alchemy Session
Due to the personal and profound nature of Soul Alchemy Sessions, if we've not yet worked together, let's have a 15 minute (complimentary) chat over Skype to connect.
You can email me directly to arrange a time: melissa@soulwellness.com.au, or click here to view my calendar and book your time.
If we have worked together before, book your Soul Alchemy Session here.
As mentioned above, limited Soul Alchemy Sessions are available (one-two per month), out of respect to the time and energy that is infused into your personal Soul Alchemy Code. 
Upon booking your Soul Alchemy Session, please email me a recent photo (taken within the last 6 months) of yourself, which I may refer to during the channeling of your Soul Alchemy Code.
If you have any questions, send me an email: melissa@soulwellness.com.au and I'll respond as soon as possible.
Much love and soul wellness,
Melissa x