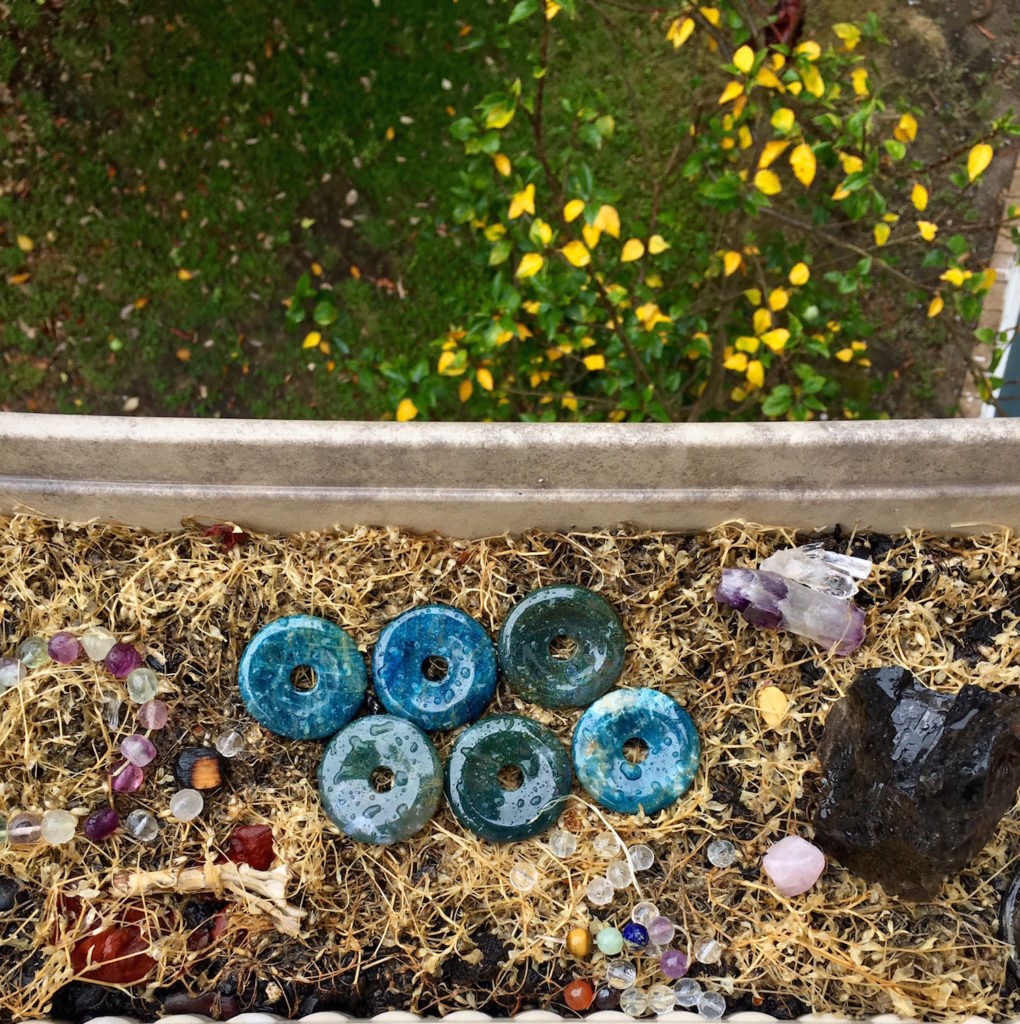 Pi-Stones are circular disks with a hole in the middle.
Symbolically, they represent our luminous and radiant energy field.
Our energy field becomes bright as we take better care of our energetic wellbeing, by cultivating energy practices that support and sustain our inner and outer selves, and our emotional and physical bodies.
The circular shape of the stone also represents our original wholeness, and the remembering of our wholeness.
The Pi-Stone is symbolic in many cultures, also representing the continuous evolutionary cycle of creation (birth, life, death and re-birth), balance, karma and healing.
It's also integral to receiving and sharing the 9 Rites of The Munay-Ki (munay = love and ki = energy).
The stones above are being readied for their people – cleansed by the rain and charged by mother earth –  ahead of the 9 Rites of The Munay-Ki next weekend.
Three Pi-Stones are Moss Agate crystal (grounding, peace, stability and persistence) and three are Blue Apatite crystal (knowledge, wisdom, vision and psychic activation).
Each was chosen specifically with intention and intuition, for each of the participants coming along to receive the transmission rites.
As you receive each of the 9 Rites of The Munay Ki, your Pi-Stone is imprinted with the energetic transmission of the Rite, and once all 9 Rites are received, is then worked with to pass on those rites to others.
Wearing the Pi-Stone (once imbued with the transmission of each of the 9 Rites) when you feel called to do so, helps to enhance your connection to, and embody the vibration of, each of the rites.
As your senses develop (one of the many benefits of receiving the Rites), you're able to tune in and receive messages specifically from your Pi-Stone – you'll come to know what you're being assisted with in day-to-day life, as you  continue to upgrade your consciousness and hold an enhanced vibration of love within your body.
Next weekend, each participant will choose their own Pi-Stone from the collective of stones above, and begin working with the medicine of the Pi-Stone and the Munay-Ki.
If you're feeling called to receive the 9 Rites of the Munay-Ki, or would like to know more, click here.
Much love and soul wellness,
Melissa x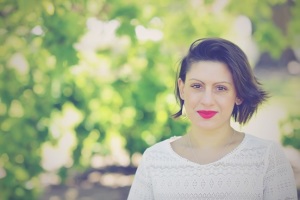 Beautiful heart, if you're feeling called, lets work together.
Book your 1:1 Shamanic Kinesiology session here.
Begin your Devotion Initiation Journey here.
Come to the next Womb Blessing Gathering here.
Receive the 9 Rites of the Munay-Ki here.
Melissa Farrugia is the creator of Soul Wellness and a passionate shamanic kinesiologist, writer and teacher based in Elwood, Melbourne, and globally via Skype. Combining her formal training with a keen sense of intuition and life experience, Mel supports self-responsible souls who are at a growth point in their life, desiring to shift from feeling mentally, emotionally and creatively stuck, to feeling deeply connected and alive in the life they're living. Connect with Mel via the social media links and subscribe above to join the Soul Wellness community.
Latest posts by Soul Wellness (see all)