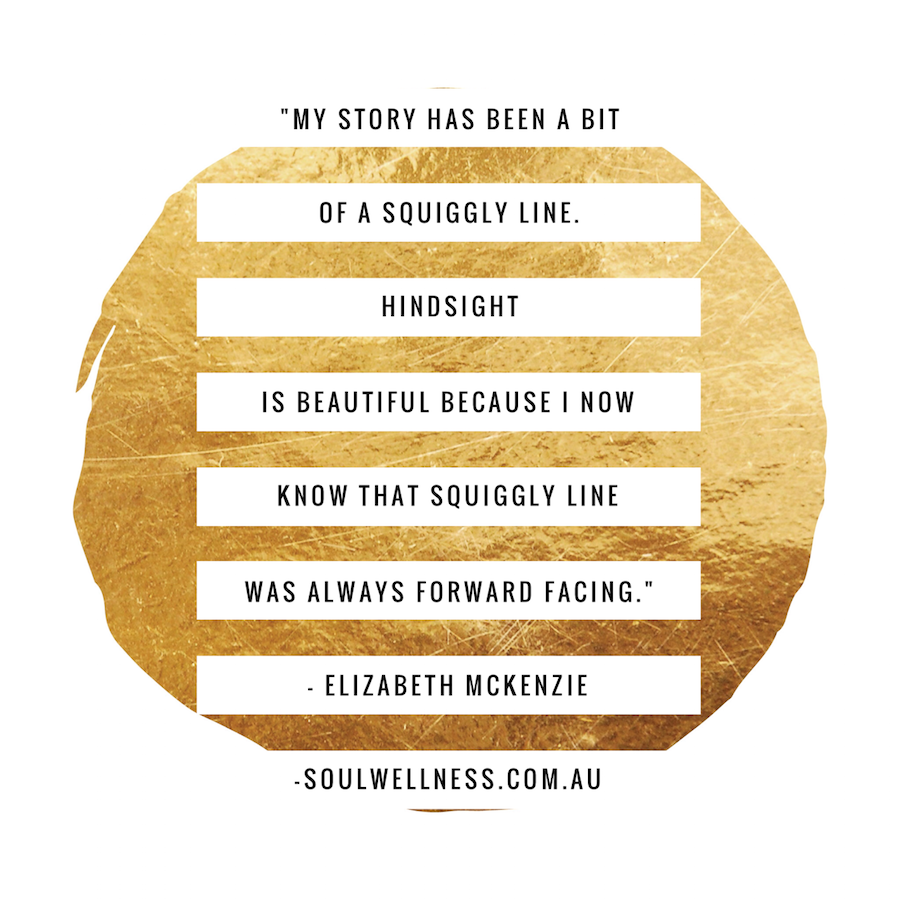 Today, I'm so excited to bring you the very first interview in the Creating Gold: Soulful Stories of Visionaries Living Their Best Life interview series.
Get ready to meet Elizabeth McKenzie – the writer behind Your Highest Self. She writes with a genuine honesty and willingness to impact others lives in such a positive way.
I loved interviewing Liz, and her dynamic enthusiasm for wanting to share her story, especially at this unique stage of her creative journey, is deeply refreshing and empowering.
So, sit back and get ready to soak up some wisdom… I know you're going to love it.
Q. Hey there Liz! To get us started, let us in on who you are, the main 'moments' of your story so far, and what your best life is all about:
My story's been a bit of a squiggly line, and at times I wasn't sure where I was going, but hindsight is beautiful and I now know that squiggly line was always forward facing.
My main moments include…
Travelling overseas alone at 19, getting married and divorced at 24, finishing my first degree in marketing and events after years of too-ing and fro-ing, going back to study Speech Pathology.
Also, finding the Aussie blogosphere and connecting to inspiring women, starting my blog, and investing in myself.
My best life is all about investing in myself such as kinesiology, learning new things and taking care of myself. It's led me to the amazing path I'm on.
My best life is also about knowing that even if my circumstances aren't perfect (e.g. being a student has meant that I haven't had access to certain things) I'm meant to be happy, just where I am now.
I'm always asking myself: what are the things I can do today that make me love my life?
Q. So, how are you making your best life happen? Share your insights with us…
There's a few key points that make me live my best life, regardless of where I am in my journey.
Finding my voice after years of struggling to understand who I am and it's allowed me to speak my truth. It's been life changing. I'm able now to ask myself if what I'm about to do is really what I want to do, and learning to say no if it's not.
Having faith, knowing I'm exactly where I need to be right now, especially studying speech pathology, is also important. I'm still figuring out how I want this study to fit in with everything I'm creating for myself online, and while it may seem very disjointed right now, I know I am exactly where I need to be. It's really about having that faith.
Practising patience and being present. I'm a very impatient person – well I used to be! It's challenging to change traits that are so ingrained in us and while I'm constantly working on my patience, at times it's very hard.
Being present is really acknowledging that we only live in the now, and by being aware of that, participating in the now will allow us to experience our best life.
Q. Invite us into your world for a day: what does a day in your life look like? 
I'm the kind of person that needs structure to make my dreams come true so Monday-Fridays need to be structured. I will usually wake up at 5am to do at least two of my most important tasks – exercise and blogging.
What I do blogging wise varies day to day but there's structure in whether it's a creative day or an admin day. I then head to placement for my university course and when I get home it's whatever tickles my fancy.
Q. What inspires you & motivates you to keep going with your best life?
At heart I'm a bit of a competitive person so what really motivates me to keep going is proving to myself that I can make it. I've written down my goals and I believe in them whole-heartedly.
I know I've got this, but I also know that it's not going to happen if I slack off. It's only going to happen by committing to my goals and working hard. That feeling of looking back over my list and ticking off those big ticket items fills me with so much joy I can't not try!
What inspires me to live in my best life now is knowing I am meant to be happy. It's the norm.
So when I have a bit of a flat day I know that it's an exception, and it's okay and it's not a reflection of my life or who I am, it's just an emotion and a feeling that needs to be expressed. Before I know it, I'll be back to being happy.
It's a beautiful safety blanket but also gets me off my butt once those emotional days are done and dusted.
Q. What are the values that you live your life by?
Love is everything. In order to succeed and to live my best love I must love myself. And in order to function in society today I must love others, regardless of their choices (that non-judgement thing).
Health. I know that in order to live my best life my body needs to be healthy and happy too. It's that connection with my body at the physical level and knowing what it wants and needs.
Also, knowing it's okay to slip up here and there. It's okay to make mistakes and it's okay for everything NOT to be perfect. As long as I'm still on my road then it's okay. Those bumps and mistakes along the way are far greater teachers than any textbook.
Q. What do you think your best attribute has been to get you to this point? 
Believing that anything is possible.
For example, when I first learnt about chakras and energy I really had to let myself believe it was possible, that chakras existed.
Being surrounded by, and being a practical person myself, I developed a belief that led me to judge before experiencing.
For me to have worked out who I am and what my best life entails I really had to let go of that judgement I'd developed and adopt a curious 'anything is possible' attitude. Believe anything is possible and then prove it to yourself.
Q. What's the best advice you've ever received?
Simple: time is my friend. I used to stress so much about never having time to do anything it'd stop me in my tracks. Knowing that time is my friend instantly calms me down and I'm able to breathe and get on with my life.
Q. What advice would you offer others who are changing the way they live so they can live their best life?
Applaud yourself.
It takes a lot of time and courage to say to yourself that what's going on in your life right now isn't working anymore. And then know that there will be times when you'll have major battles in your head about how crap it all is and how hard it all is and how much easier it would have been to just keep plodding along but don't listen to them because they pass by as soon as you start dreaming and start planning the very teeny steps you need to do to get there.  Never give up.
Q. So where to from here for you? What is the next step for your best life?
The end of the year will see me graduating from my speech studies and working towards beginning my studies in kinesiology. I'm also working on a couple of e products at the moment that should be released by the end of the year. Wow, first time declaring this to the public – it's all very exciting!
Q. Is there anything else you'd like to share with the Soul Wellness community?
You're here in this community for a reason. To change. To live your best life. The fact you're here is amazing. You deserve a pat on the back because it isn't all flowers and rainbows making your best life happen now.
It's not perfect and it's not always going to be easy but just being  here, acknowledging it  – you're sending a message to the universe that you're serious. You're willing. And enjoy the journey. Never forget about the journey to your best life.
Your best life starts with where you are now so start loving now.
About Liz McKenzie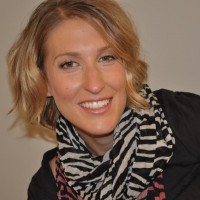 I'm Elizabeth, the writer behind Your Highest Self www.yourhighestself.com.au, an online place where I share insight, inspiration and wicked wisdom to help you find your voice, speak your truth and own your destiny. Don't forget to come and say hi over on facebook too!
When I'm not writing or studying to become a speech pathologist, I'm snuggling up with my mini labradoodle Melvin and dreaming up big and crazy ideas.
_________________________________________________________________
A huge thank you to Liz for sharing so much of herself with us! 
Before you move on, I'd love to know what your biggest take-away from Liz's interview was, and what you intend to do to Create Gold in your own life…
Happy pondering!
Want more? Get the full catalog of Soul Wellness Interviews here.
Much love and soul wellness,
Melissa x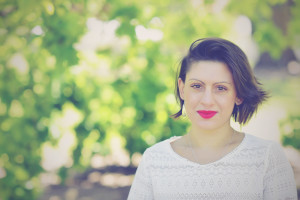 Ready to work together? Schedule your 1:1 Shamanic Kinesiology session in Elwood, or via Skype.
Come along to the Gathering Circle. It begins Thursday 6th of October.
Seeking restorative self-healing practices? Download 31 Days of Soul Wellness
Melissa Farrugia is the creator of Soul Wellness and a passionate shamanic kinesiologist, writer and teacher based in Elwood, Melbourne, and globally via Skype. Combining her formal training with a keen sense of intuition and life experience, Mel supports self-responsible souls who are at a growth point in their life, desiring to shift from feeling mentally, emotionally and creatively stuck, to feeling deeply connected and alive in the life they're living. Connect with Mel via the social media links and subscribe above to join the Soul Wellness community.
Latest posts by Soul Wellness (see all)