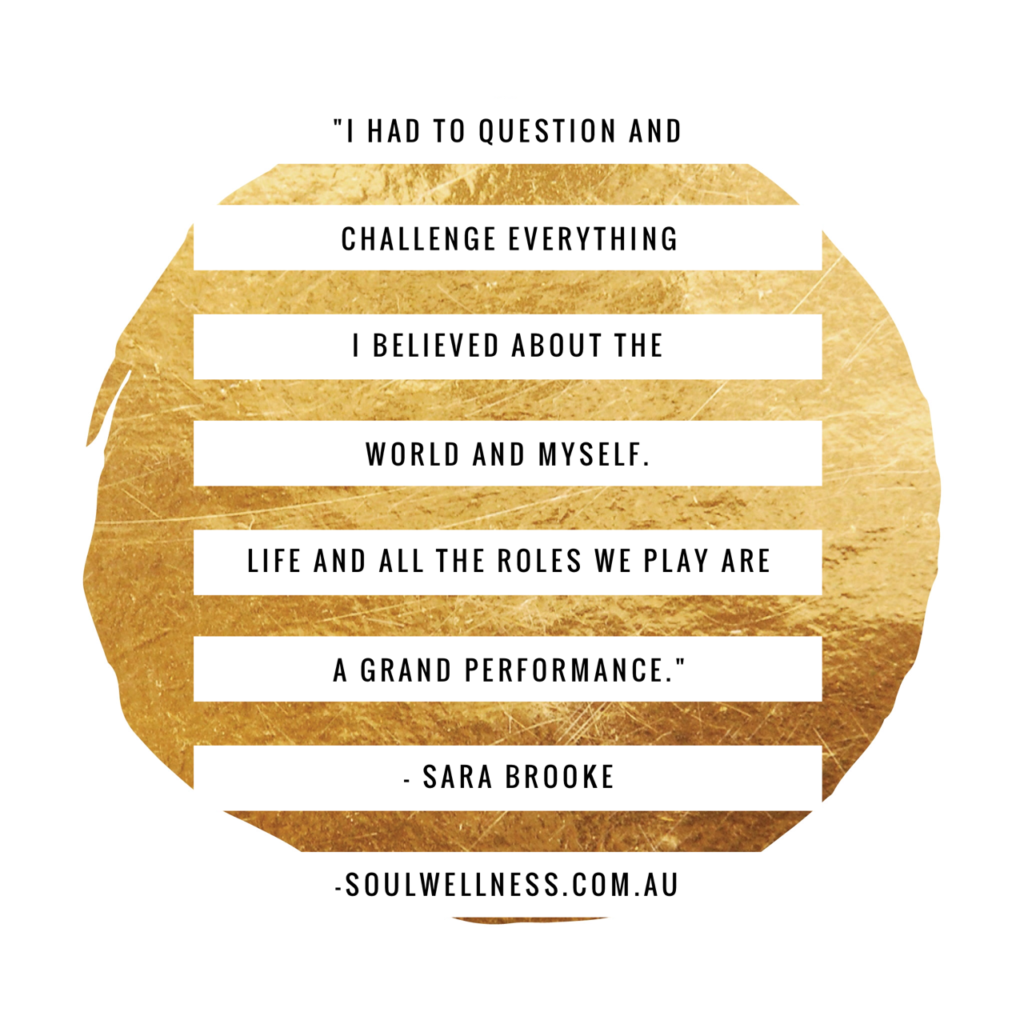 Today I bring you my beautiful interview with the incredible Sara Brooke, for Creating Gold: Soulful Stories of Visionaries Living Their Best Life.
Sara and I first met towards the end of  2011, after I saw her The Spaces In Between postcard in the reception area of a multi-modality practice I worked at.
Within the 50+ business cards, flyers and postcards I was drawn to hers, so dialed the number on the back of the card to introduce myself.
Soon after that first conversation, I knew I wanted her to be a guest contributor for 31 Days of Soul Wellness (a course which was only in the early days of planning) and since that point way back then, our paths have been crisscrossing: on-line, in person and during our one-to-one session with each other.
Sara is someone I dearly respect for so many reasons, though especially because she is so refreshingly real, honest and filled to the brim with integrity.
She'll be the first person to tell you she's figuring out this life right alongside the rest of us, and also put her hand up to help others from her experiences, from an incredibly heart-centred and grounded space.
Ready to dive in? Enjoy this interview, and soak up the nuggets of gold you find along the way…
Q. Hello lovely Sara! To begin, will you share with us who you are, the main 'moments' of your story so far, and what your best life is all about?
My name is Sara Brooke. I am a Melbourne based Meditation Teacher, Healer and Intuitive Mentor who runs a business called The Space In Between.
If you had told me when I was younger that this is what I would end up doing with my life I would have laughed. I really didn't foresee this being my best life, however when I look back and see all the paths and signs that lead me here, it's so obvious. I know without a doubt I have found my true calling and purpose.
Throughout my life I have played many different roles and identities and all of them have groomed me into who I am now. Daughter, Sister, Friend, Girlfriend, Check out chick, Forum Moderator, Sales Rep, Party Girl Raver, Account Manager, Rescuer, Free Therapist, Marketing Manager, Singer, Performer, Fur Mummy, Graphic Designer, Healer, Teacher.
I have experimented, played and taken leaps. I have made mistakes, I have hurt people, I have been hurt. I used to suffer acute anxiety and depression. I had an eating disorder. I hated myself and really didn't like life much. All of that lead me to discover meditation and my spirituality. Through re-connecting with my soul my life transformed and became amazing. So now I am very passionate about sharing those same tools and techniques that have helped me with others.
Am I perfect? No. Do I have all the answers? No. Do I still make mistakes? Yes. So what's changed for me from back then to now? I think the main thing is that rather than living my life from my head and my thoughts, I now live from my heart. I am getting more comfortable with my vulnerabilities. I know I am not here to be perfect; I am here to experience, to live. To create, evolve and grow.
Q. Did you at some point know that this is what your best life would look like? Or did you stumble into it along the way? Were there non-negotiable elements that you sought out, values you knew you needed to live by?
The vision of how I wanted my life to be has changed and evolved over the years. In my early twenties I was very focused on music and singing, so my dream was to travel the world performing and making music people would love.
Then my soul started nudging me in another direction. I discovered meditation and Reiki. I awoke to this whole other part of me and realised that being a teacher and healer was actually what I was being called to do. Being a Gemini, I tried to do "everything" for a few years. Corporate marketing chick, dance music club singer and healer. I burnt out. It wasn't possible to do everything. So I refocused, let the club singing go and stripped back to my marketing job at Theatre Imports (an Australian gift& home-wares wholesaler) and building my healing business on the side.
It took three years of hard work, patience, dedication and sacrifice. It all paid off at the end of last year when I was able to finally leave my corporate job and step into being a full time entrepreneur. Ultimately the most important value to me is Freedom. To get to this place in my life where I embody a life of freedom required me taking responsibility for my life.
I had to commit to me; clean up past lessons, invest in myself, clear all the debt I had incurred when I was younger (over $35K), stop binge drinking on the weekends, say no to things that didn't serve me, I needed to let go of being so controlling and surrender to trusting the universe has my back.
I used to hate the idea of responsibility. But when I actually embraced it, I found the freedom I had been seeking my whole adult life.
Q. Share with us how you're making your visions for yourself and your creative contribution to the world, happen? Do you have long term goals, or do you take it one step at a time? 
In being asked this question it's made me realise that my creative process has changed quite significantly. I used to be quite logical, driven and structured. I would push to create, force things and drive myself crazy with perfectionist tendencies and impatience. It made creating anything-hard work.
Now I am a lot more present and grounded within my heart. Rather than forecasting months or years down the track – I generally focus on the day-to-day, week-to-week process. Instead of over-thinking I have started asking myself (daily after meditation) "what do I FEEL like creating today, what do I NEED to do". Then the answers will come and then I actually DO them. For example, today when I checked in guidance was to "enter your receipts into your financial spread sheet", "go for a walk to the river" and then "take your laptop to a café to finish the Creating Gold interview".
Little daily and hourly bite-sized steps along the way make major impact in the long term. Trust your intuition to give you direction. When your soul is guiding you, it will only generally give you the next one – two immediate steps you need to action. Then when you finish those, you will get more.
Focus on the here and now, what can I create or do TODAY… verses getting to far into the future. Because if you forecast too far forward, the gap between now and there seems too great and you get overwhelmed. Flow rather than force. If you are confused or don't know WHAT to do, slow down.
Spend more time in stillness, outside in nature, "being" – not "doing", and LISTEN. FEEL. The direction and clarity will come; you just need to have space & stillness within your life to hear the voice of your soul.
Q. Invite us into your world for a day: what does a day in your life look like? Is there structure or is each day different to the next?
Gratefully, each day is always different. Which works well for my core value of freedom.
I really don't enjoy being stuck doing exactly the same thing on rotation that kills me. At the moment I am still very much finding my feet and creating a healthy structure in my daily life that honours all of me. I am in process of letting go of old habits that only really served a corporate life style and putting in stronger boundaries around things like checking my inbox and how much time I spend on social media.
An average day typically involves taking my puppy Harvey out for a walk first thing, then meditating for 10-20 mins and then preparing for the rest of my day. Weekdays at the moment are a mix of seeing clients either in person, via skype or distant healing for my 1:1 intuitive sessions. I also run three meditation classes each week and sometimes have corporate meditation workshops to facilitate.
On Saturday's I tend to run my workshops and Sunday is my day, just for me to rest and relax. Outside of work I try to nourish my body with foods that are full of life force and to always do some form of physical movement every day – and mix it up, some days I walk, others I do yoga, or swimming, or weight training at the gym.
In my down time I read, journal write, catch up with friends, study, watch a movie or tv show I enjoy and I adore a good brunch date.
Q. Where do you draw your inspiration from? And what motivates you to keep going with your best life?
I find connecting and listening to other people who are living their passions incredibly inspiring. I love people who speak their truth, are authentic and are present within themselves and life.
When I am feeling uninspired I find that is the best time to take a walk outside in nature, meditate, have a hot bath or take a nap. Those practices help me get out of my monkey mind and connect me back into the voice of my soul. Running my own business keeps me highly motivated, it all comes back to me to provide for myself so I have to stay on top of things.
Luckily at the moment I am not short on ideas of things I want to create, it's just prioritising what needs to get done, and when.
Q. What challenges have you turned into stepping stones & opportunities?
The greatest challenges in my life – having bulimia, anxiety and depression all took me to the darkest depths of the human experience. Hitting rock bottom allowed me to surrender control and accept support and love from other people.
I learnt compassion, empathy, presence and strength. Those challenges and moving through them taught me that any challenge I meet in my life is a healing opportunity to gain deeper insight to myself.
The wonderful journey and life of a healer is that any challenge I move through and learn from gives me another tool and experience to guide others with.
Q. Were there/are there any beliefs you've had to challenge or ways of thinking you had to change, in order to step into the life you wanted?
Yes. Hundreds.
I had to question and challenge everything I believed, or thought I believed about the world and myself. Overall THE most important one I had to change was from a victim mentality into one of empowered responsibility. This profound shift occurred during my Reiki 1 Training over eight years ago. I had the significant realisation that everything that was happening externally from me was a result of my inner experience.
I recognised that no one was going to come and "save me" and nothing externally could "fix" me. I had to step up, take back my power and create my own life. Since then my journey of transformation and awakening has continued to flow. I have had to change beliefs around every facete and area of my life. Money, relationships, creativity, worthiness, success, the list goes on and that process hasn't stopped.
The difference is now rather than constantly looking for things to "fix", I focus on what I want to create and work with any blocks or sabotage that come up based on that.
Q. What do you think your best attribute has been to get you to this point?
I am open to changing my mind. Rather than get fixed ideas or expectations I have learnt over time its much better to remain open. To expect the unexpected, be open to miracles and new possibilities. People and life changes all the time, so riding with the flow of change is better than jamming on the breaks and resisting it.
Q. What's the best advice you've ever received?
In my early twenties I was about to go on stage to sing. It was a big gig for me, and my band and I were supporting one of my most fav international DJ's Dave Seaman. The club was packed and had a number of other musicians and industry heavy weights that I really respected in attendance. I was full of anxiety and was freaking out about making a mistake.
I shared my concerns with Colin Snape, an amazing Australian keyboard player and musician who has performed hundreds of times in front of thousands of people. He said to me "Don't worry about making a mistake, anything you do out there on stage will be all part of the performance, the only person that will even notice your mistakes will be you, so rather than worrying – enjoy it."
It really stayed with me. Life and all the roles we play are a grand performance, and if we are always focused and stressing out about making a "mistake", we lose the enjoyment and won't appreciate the experience.
Q. What advice would you offer others who are making changes to the way they live, so they can bring their own creative dreams into fruition?
Expect RESISTANCE.
You can't have growth or give birth to creative dreams without meeting some resistance along the way. Resistance helps us grow. To strengthen our muscles, we train against resistance.
Everything requires resistance to grow.
So if you have a ton of doubt and fear hit you – welcome it. It means you are "leveling-up". Also, know when to share and when to keep things to yourself. Especially when it comes to your creative dreams. In the world of social media sometimes we can be in a rush to share our findings, projects and ideas.
Keep some things just for you. Let your ideas have enough time in your inner womb to develop and grow before bringing them out into the world.
Q. So where to from here for you? What is the next step for your best life?
I am currently half way through my Chakradance teacher training course which is just amazing.
It combines so many things that I love music, meditation, healing, dancing, drawing and the chakras.  If all goes well I will be running the course by mid year in Melbourne and I can't wait to share this transformative journey with my students and clients.
Creatively I am in the middle of writing & testing my next meditation album "Activate Your Inner Healer". It's been a lot longer in the creative pipelines than I would have liked, but I am really excited about it.  There will be 4 -5 meditations included that combine powerful healing techniques & visualisations to help people really empower themselves to come into harmony and balance.
I am also going through the fun project of re-branding and re-developing my website so that it will include a blog and also a shop where I can sell my meditation MP'3 directly and also in time offer e-courses. I am really looking forward to sharing my work and tools with a larger audience.
Q. Is there anything else you'd like to share with the Soul Wellness community?
Mediate. Seriously. It is one of the best life tools you could ever implement. Commit to 10 mins a day and watch your life transform magically.
Yes, absolutely. I'm putting my hand up and agreeing with this last bit of advice from Sara. One of the best things I ever did for myself was to begin meditating, and persist through the thought cycles to find a sense of peace.
About Sara
Sara Brooke is the owner of The Space In Between. A Meditation Teacher, Reiki Master and Theta Healer Practioner; Sara is passionate about sharing techniques and tools that empower people to embody their soul and transform their lives from the inside out.
Connect with Sara via her website and facebook.
________________________________________________________________________
A big thank-you to Sara for this chat. It was such an honest, eye-opening and soulful conversation, and I'm incredibly grateful for having it. 
Before you move on, I'd love to know what your biggest take-away from Sara's interview was, and what you intend to do to Create Gold in your own life? 
Happy pondering!
Want more? Get the full catalog of Soul Wellness Interviews here.
Much love and soul wellness,
Melissa xx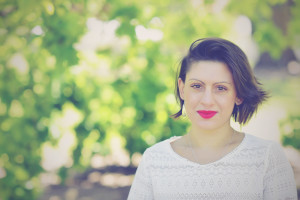 Melissa Farrugia is the creator of Soul Wellness and a passionate shamanic kinesiologist, writer and teacher based in Elwood, Melbourne, and globally via Skype. Combining her formal training with a keen sense of intuition and life experience, Mel supports self-responsible souls who are at a growth point in their life, desiring to shift from feeling mentally, emotionally and creatively stuck, to feeling deeply connected and alive in the life they're living. Connect with Mel via the social media links and subscribe above to join the Soul Wellness community.
Latest posts by Soul Wellness (see all)