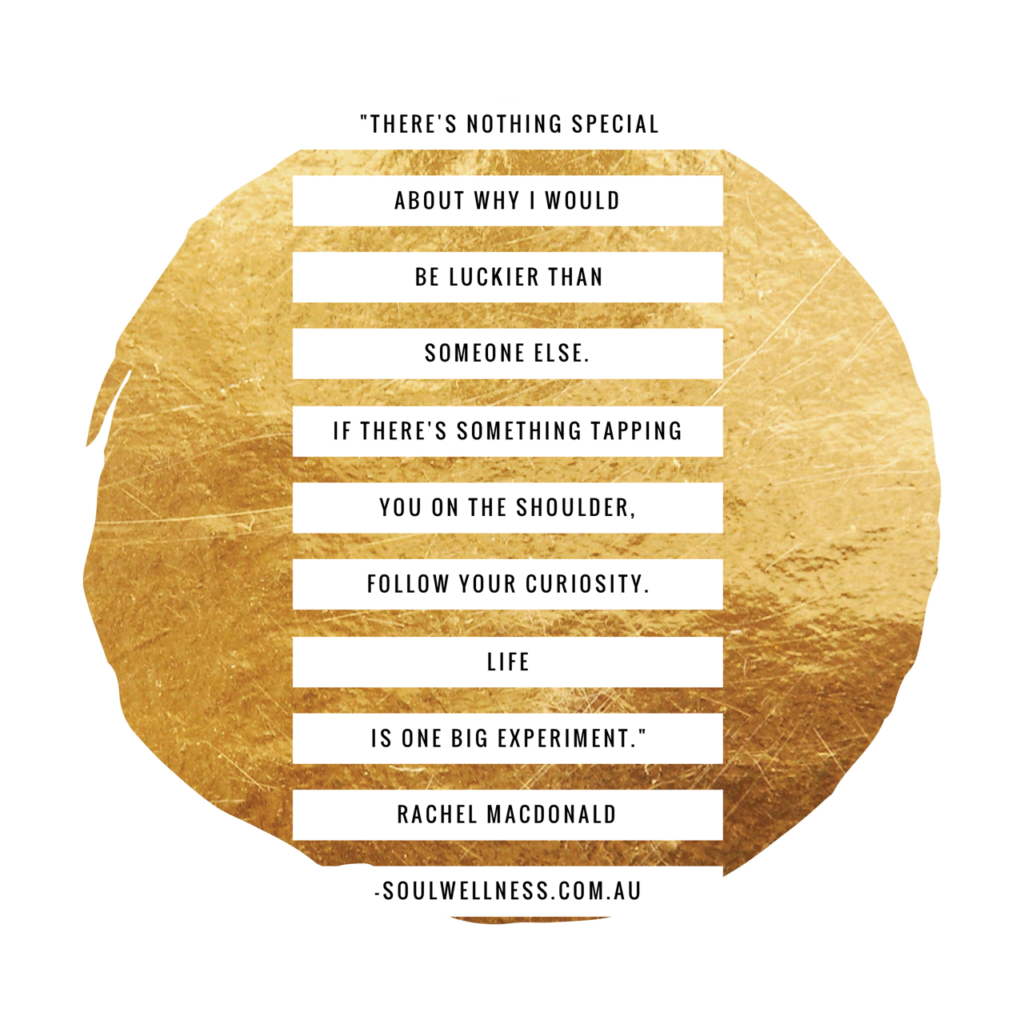 Today, I'm so pumped to be sharing my interview with Rachel MacDonald as part of Creating Gold: Soulful Stories of Visionaries Living Their Best Life.
Rach is one soulful lady; exuding authenticity (it's clear that what you see is truly who she is), heart, and positive energy, by living by her values and really stepping up when she is called to, even if it means taking a deep breath and leaping into the unknown.
This is a truly inspiring interview, so grab yourself a cup of your favourite tea, get comfy and ready yourself to spend the next few minutes soaking up her words.
Q. Hey there Rach and welcome! Let's jump right in by helping us get to know a little bit about who you are, the main 'moments' of your story so far, and what you're up to right now:
Okeydoke! I am a life & blog coach and I am a writer at inspacesbetween.com. I've also just co-authored two e-books, Spirited & Spirited 2014 companion, so they've been the big projects in the last couple of months.
A bit about me (the short form version), I grew up wanting to be a journalist, and that was really my only dream. I didn't waver on that for a very long time, and I got to uni and discovered in fact, that I didn't want to be a journalist. I did some work experience and it scared me, so I thought, nope this isn't for me!
So, thankfully I was doing PR and Marketing as well so veered my studies in that direction. From there, randomly ended up in a job designing watches, and spent years traveling around the world visiting trade shows and conferences, and then from there, went back into PR.
Nearly three years ago, I started my blog at In Spaces Between between purely as a creative outlet. Even though I was in a job that centered around communication, I wasn't writing very much so felt called to express a side of me that's very much into self-empowerment and spirituality and those sorts of things and my job wasn't satisfying that.
So I began blogging and building a community on the side, not really knowing where it would take me but hoping it would lead me down a path towards a passion fueled business.
Towards the end of 2012, after feeling really dissatisfied with my job for probably 18 months (on paper it was a really great job but I felt like I was leading this double life)  a few things came to a head (kinesiology was actually part of that where I had a session which totally blew my mind!) and, I decided to put in my blog newsletter that I was taking some expressions of interest for coaching, which had been calling my name for a little while.
A coaching business was really aligned with where I wanted to go, and I also knew that I had a lot of information on the PR marketing and blogging side of that I could share, so I put that out there and didn't know what to expect at all and received a really fantastic response.
By the next day thought "I don't think I can work full time anymore, this is a bit insane", went away to think about it over the weekend and resigned on the Monday.
So, I kicked off 2013 with my coaching practice, so it kind of all happened over night in a sense but I had been consistently building towards it for about 18 months prior, and I make a point of sharing that.
Q. Getting back to the point where you felt like you were leading a double life: in that moment, did you decide that there were particular aspects that you really needed to anchor into to then pull you through to that place where you felt like a whole authentic person again?
I think the big thing for me, was that even on all these levels I had this really beautiful life: I had a great relationship, I was newly married, I had wonderful friends and as I said, a job that looked good on paper, but there was something really big missing – the passion, the spark.
I'm a big ideas person, and I like to be filled with energy, and I love that feeling of a spark of inspiration and insight, so for me not to have that felt like I was living my life at probably 70-80% which was unacceptable to me.
So it was bringing it back to what would make me feel like that, and I knew it  would call me to rise, to lean into the fear, I would have to become very very comfortable with uncertainty, to follow this dream, but if the intention is to add more value, more love to the world, then you will be supported.
For Rach's full answer + more conversation not included in the write up, click play below:
Q. So, what do you suggest we do to keep ourselves supported whilst fueling our passions, and what do you do?
Surround yourself with courage references or evidence of people going out and doing a similar thing to you, and thriving, because it makes it a reality for you as well.
You have that proof there that yes, this is possible, all I have to do is commit, believe, have confidence and have all the values you need to bring to it, but I think it's really really important to seek out people on a similar path.
I always say, the whole time I was working in the corporate world, I always knew I didn't want my bosses job, and that was a big warning bell for me, because if I didn't want to climb the ladder, what was I doing?
A word on comparison, because it's a very big thing, particularly in the on-line world where we're presented with a very polished highlight reel; really celebrate the wins of the people who are triggering you because, when you do, you're seeing yourself in that person. So, if you're triggered by their success, or by that fantastic opportunity they've just received, then they are just mirroring back to you the potential you have within yourself, so celebrate that.
Click play below for Rach's full answer + conversation not included in the write up:
Q. So, share with us; what do you do on a day-to-day basis? 
This is a big focus in my life at the moment actually, I'm bringing back structure!
After living 10 years of my life on someone else's time, freedom is a very big driver for me, so last year I really had a very unstructured schedule, and what I've realised is, as a creative person who is very very inspired by new shiney bright ideas, I really have to anchor myself in and devote and commit to the work I want to get out there, rather than just get caught up in the idea.
So, for me this year, my whole little mantra is "finding freedom in discipline, finding freedom in devotion", so having set hours to do my writing, set hours to do my coaching and project work, and then having to switch off and relax and have fun, with a total sense of freedom, because I'm not thinking "I should be doing this, because I didn't do it in my work hours".
I'm still playing around with that to be honest, though in the next two weeks I'll have a very good idea of what that looks like.
Q. What exactly is it that inspires you, and were do you draw your inspiration from?
The first word that pops into my mind when I've been asked this question before is, everything, and it changes all the time. I can be in the midst of a great conversation and something will go off and I'll go, I need to write about that. Or I'll be walking on the beach and someone can do something, or a child can run in front of me, or I'll look out at a wave and go, "oh wow, that got me really thinking about…"
I do think that when you commit to honoring inspiration and have your eyes open to the beauty of the world around us, I think that it shows up in your life more and more. It's about being conscious to it.
Presence is huge, and I think whatever practice gets you present, bring more of that on. Going for a run to me is presence, or shutting off my computer or turning off my phone and going to sit on the couch with a great book, that's presence as well.
I think when you open up to being conscious and present, what happens is synchronicity through signs and symbols, currently through personal experience, short phrases and messages.
So I've just started making a note of them because it's almost like it's creating a manifesto, a way to live my life.
Let's be light with life, lets make it easy and lets tune into the magic.
To listen to Rach's full answer + conversation not included in the write up, click play below:
Q. Have there been particular mind-sets and beliefs that you've had to shatter in order to bring you to that place to being open to the magic, or is it something that's been innate to you?
There's always been that sense of wonder and sense there's a force bigger than us out there, and I think I've always had my eyes open to that.
Some big beliefs I've had to shed: generational hand me down fears around money, that's been a big one. Working hard for money, feeling guilty when it's easy and feeling like you need to over compensate by working harder. That has been a big one for me, and I think it will continue to be for quite some time, and I'm cool with that, that's something I've come to accept.
I notice when it pops up and instead of letting it dictate the decision I will make, I acknowledge it and say I'm of a different mindset now and I don't need to buy into that.
Another has been trusting my own wisdom; starting before I was ready, diving headfirst into a coaching business without having done a formal coaching qualification and just saying, "you know what, I know this stuff, I can do this".
And that's a big one, particularly coming from that academic and corporate background where it's all about your qualifications and your title, so I really had to look at that and go "at a deep core level, do I believe I can do this?"
That has been so liberating and so empowering for me. I think I needed to have the actual visceral experience of that so I could then pass it on to clients from a really authentic place and say, you too can do this, this is possible.
Q. What do you think is the core attribute that's helped you to stay on path and not give up?
What springs to mind is optimism, I've always been optimistic, I've always thought, it'll work out, I'm being supported and looked after.
As a child I remember thinking I was a really lucky person, and I know that sounds quite random but of course I believe that things just happen when you have that mindset.
There's nothing special about why I would be luckier than someone else, it's just that I've always gone into life with the mindset of "I'm lucky and if it doesn't work out it's because there is a bigger, better, more supportive plan coming my way.
Q. Let's talk books: what books have been influential for you so far?
Oh gosh, I would give a small bookstore a run for their money I think! I've always loved reading, that's where that thirst for knowledge comes in. I love to devour words and wrap myself up in them.
Books that have stood out for me: The Power of Now, at first it really pushed my buttons because I wasn't ready for it and was really struggling with it. Then I read it again a couple of years ago and I was like "where has this book been!". I was so much more ready for it and was so receptive the message of presence and detaching from the ego's story.
More on the memoir and biography side of things, I love Cheryl Strayed, I think she is an incredible writer. She's very raw, very vulnerable and through her way of looking at humanity, I really learned a lot, and about myself as well.
Q. Let's talk a little self-care: do you have a set program, or do you mix things up a bit?
Exercise is a big one for me and for a very long time I've exercised pretty consistently: it's a really good day if I've moved my body.
I'm an early riser, so I'll do yoga, or running and I'm doing some group training with a personal trainer, which is very intentional and we get a lovely massage at the end, so it's so nourishing and just amazing!
Meditation, yes definitely – it's just that way to drop back into your body, and check in: what do I need, how am I feeling, how's my energy.
Eating well is key as well. I've done the days of surviving on sugar and it just doesn't support me and my moods are off and my energy is off, and I just can't show up the way I want to show up when I'm not eating well.
Switching off is really important too, honoring my rhythms, separating myself from my work and saying "I am not my business, I am me" and taking time to enjoy that.
Q. What's the best advice you've ever received?
I've received lots of beautiful advice, but I think the advice that jumps out in my mind is "there will never be a perfect time".
That was said to me just before I pressed send on that newsletter seeking expressions of interest for my coaching business, thinking will anyone respond?
What I realised is, I'd always find an excuse not to do it, if I didn't just shut my eyes, take a deep breath and leap.
Q. What advice would you pass on to others reading this interview?
It's sort of following on from "there will never be a perfect time", if there is something that is tapping you on the shoulder, or there is a spark of inspiration, just follow your curiosity. Even if it's just dipping your toes in just a little bit, taking one baby step.
If you know there is something more out there for you, you will never regret just exploring it.
Life is one big experiment. We're here to have fun, we're here to feel lit up, we're here to feel alive, so find what makes you feel like that and do more of what makes you happy.
About Rachel MacDonald

Rachel MacDonald is a life and blog coach, soul-centred writer and speaker, and was selected as one of Problogger's 'Top 15 Bloggers to Watch in 2013.'
She is also the co-author of Spirited: Soulful Lessons on Clarity, Connection + Coming Home (to You) and Spirited 2014 Companion: Spirited Solutions to What's Holding You Back.
With unwavering enthusiasm, electric insights and a whole lotta heart, Rachel guides passion-fueled women out of fear and uncertainty, and into lives and businesses they love (and truly desire).
Rachel believes in big ideas, fresh perspectives, freedom, self-love, beach runs and your innate brilliance. Clarity meets creativity, intention meets inspired action. That's her special brand of magic.
Connect with Rachel at In Spaces Between, Facebook, Twitter and Instagram @rachelmagahy.
_________________________________________________________________________
A big thank you to Rachel for being a part of Creating Gold; this was such a brilliant interview! 
Before you move on, I'd love to know what your biggest take-away from Rachel's interview was, and what you intend to do to Create Gold in your own life…
Happy pondering!
Want more? Get the full catalog of Soul Wellness Interviews here.
Much love and soul wellness,
Melissa xx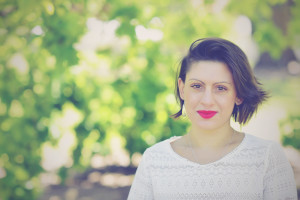 Ready to work together, you and I? Schedule your 1:1 Shamanic Kinesiology session in Elwood, or via Skype.
Come along to the Gathering Circle. It begins Thursday 6th of October.
Seeking restorative self-healing practices? Download 31 Days of Soul Wellness
Melissa Farrugia is the creator of Soul Wellness and a passionate shamanic kinesiologist, writer and teacher based in Elwood, Melbourne, and globally via Skype. Combining her formal training with a keen sense of intuition and life experience, Mel supports self-responsible souls who are at a growth point in their life, desiring to shift from feeling mentally, emotionally and creatively stuck, to feeling deeply connected and alive in the life they're living. Connect with Mel via the social media links and subscribe above to join the Soul Wellness community.
Latest posts by Soul Wellness (see all)