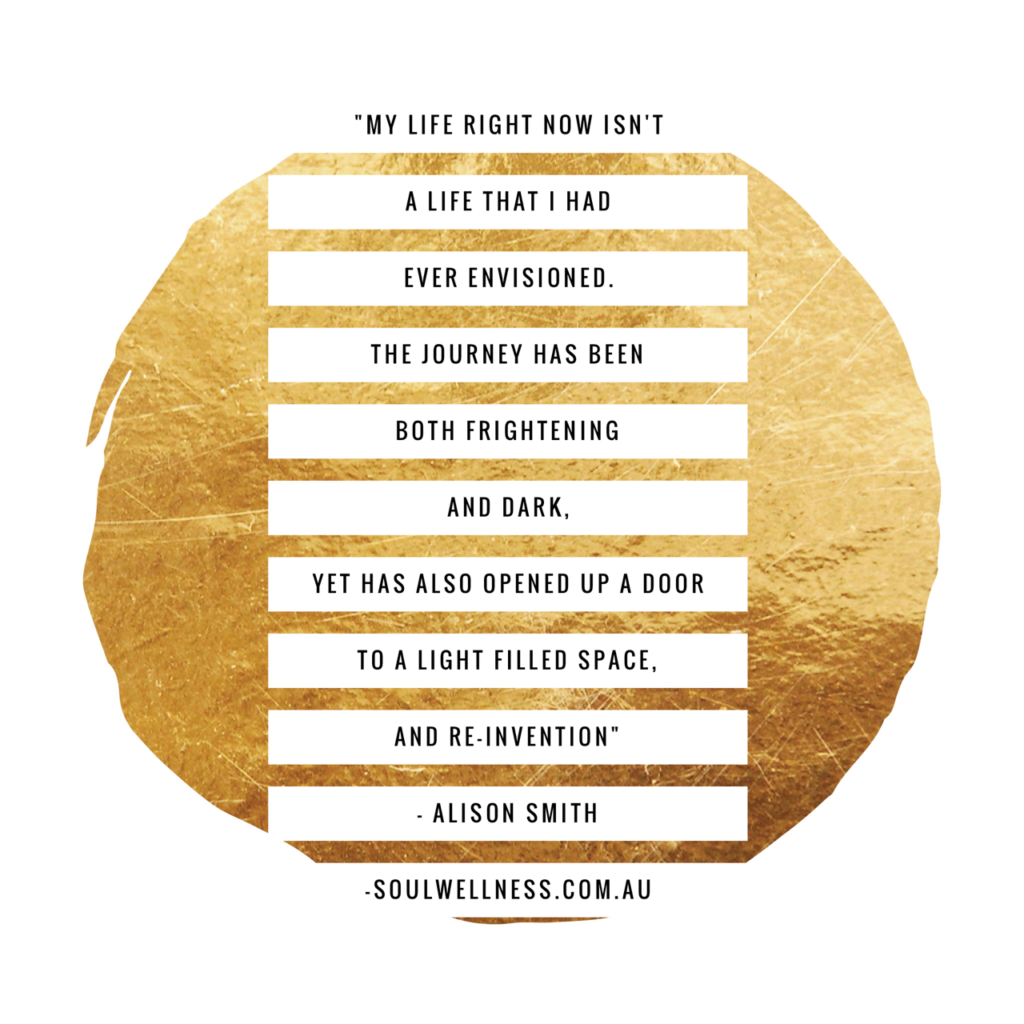 Say hello to the lovely Alison Smith PhD, a self confessed wellness junkie and Lyme warrior, something she passionately chats about below in our interview for Creating Gold: Soulful Stories of Visionaries Living Their Best Life.
Alison and I first connected around mid last year, when her email popped up in my in-box.
She'd just created a 'How To Start Juicing' info-graphic, and she was on a mission to share it with as many people around the globe as she possibly could. She had been juicing to support her recovery from chronic Illness (Lyme Disease), absolutely loved the results she was getting, and just wanted to help people get started by demystify the do's and don'ts around the practice.
This initial communication has set the tone for how I know Alison to be.
100% heart and on a true mission, to positively impact peoples lives on a grand scale, whilst in the process, living her own beautiful and unconventional life; with creativity and a firm eye on her vision for how she wants to feel and come alive each day.
During our interview, Alison really taps into:
The gifts of hitting low points in life. Specifically, how they can be the very thing that helps you soar higher that you'd ever imagined before.
Staying true to what you most desire. Even if it seems unlikely in the moment.
Having a clear vision and why it's most important.
Seeing challenges, not only as opportunities for growth, but as puzzles to be completed along the path of life.
Being busy definitely doesn't equal a lack of self-care. In fact, it's imperative to keep you energised.
Keep reading to dive into Alison's words, and soak up a little of her courage and heart infused magic.
Q. Hello beautiful! Let's begin by sharing some of yourself with us. Help us get to know who you are, the main 'moments' of your story so far, and what your best life is all about:
I'm a health & wellness mentor, who teaches women how to kick sugar and gluten to the curb, while introducing juicing and gratitude into daily living. I'm the creator of alisonsmith.com: a blog dedicated to inspiring women to live their best lives by reclaiming their health.
My story began 8-years ago when my life completely changed.
While enjoying the beautiful Canadian outdoors, a tick bit me, and I contracted a serious bacterial infection known as Lyme Disease.
I went from being a highly energized Ph.D. student, training for the Chicago marathon, to barely functioning within days. It took 5-years to receive a diagnosis, and over 2-years of treatment to re-emerge from the shroud of Lyme. I have now dedicated the last 8 years to reclaiming my health and returning to a life filled with freedom and joy.
I see a bright future on my horizon: one where I get to share the experience and knowledge of health transformation with those on a similar path. The journey through Lyme Disease has been both frightening and dark, but it has also opened-up a door to a light-filled space, filled with love, compassion, connection, and reinvention – these are gifts that I'm truly grateful for.
My body is still healing. And, perhaps, I will always have Lyme Disease. But I'm thriving, and I'm living my life as fully as I can. I created alisonsmith.com as a way to share my story and the knowledge that I've gained throughout the experience of Lyme. I have been able to build an online business that allows me to remain focused on my healing, and it allows me to remain free from a traditional 9-5 job.
My best life is ever evolving – stagnation is not my jam. At the moment, it includes the freedom to focus on my health, connecting with others, sharing my knowledge, and building a business that gives me freedom, success, creativity, excitement, and connection with people all over the world: all the while being surrounded by the people that I love.
Q. Did you, at some point know that this is what your best life would look like? Or did you stumble into it along the way?
Let me just say this…from the nightmare of Lyme Disease blossomed the dream of my best life. I'm so surprised that I have the opportunity to create a life, based on my experience and passion, from a place that was so incredibly scary.
My life, right now, isn't a life that I had ever envisioned – after all, who wishes for life altering illness to make its grand appearance? But that's exactly what happened to me, and I'm making the most of it.
Originally, I thought that I would have become a university professor (I have a Ph.D. in neuroscience), or a high-powered medical executive. But now, I can't imagine what my life would have been like if I continued on that path.
It was as if the universe stopped me, dead in my tracks.
I always knew that I didn't want to have an academic or corporate career: I wanted to be an entrepreneur, my childhood dream. I was just pursuing the 'status-quo' type of career because I thought that I had no choice – what else is there to do if you have a Ph.D.?
Well…now I know, there's a great deal that one can do with or without a Ph.D.
The internet has opened-up a chasm of opportunity for people to carve out a unique position in the market place. And, it has allowed me the opportunity to fully engage with my true dreams and aspirations. I love that I can sculpt a career that is entirely linked to my values and passions – I don't need to compromise for anyone.
Staying aligned with my own beliefs and treating people with the utmost respect and compassion, and focusing in on my healing journey, is extremely important to me. I get to share my knowledge, and maintain healing boundaries, while building a successful business – life doesn't get better than that!
Q. Share with us how you're making your visions for yourself and your creative contribution to the world, happen? Do you have long-term goals, or do you take it one step at a time?
A year ago I learned that it was possible to build an online business centred on my story, knowledge, and message. Before that realization, I had no clue that I could even do that. It took me 3-months, from the moment of discovery to starting my website. I had no idea what CSS, PHP, or HTML were – but I've always been quite tech savvy, and I took the creation of my website as a challenge.
Funny story…I have a really common name: Alison Smith. There are thousands of Alison Smiths across the world (there was even a Facebook group called: Alison Smiths Unite, which had thousands of members).
So, when I made the decision to start a website, I really wanted alisonsmith.com. But, as no surprise, the URL was already owned by some guy who lived the United States. Yes, a man owned the domain name for 15 years. And, it was never an actual website.
I wanted that domain name so badly that I started to fax, email, call, and pretty much stalk the owner. I became frenzied by the thought that I couldn't have it, and how dare some guy hold my domain name hostage!
I placed my domain name right on top of my Digital Manifestation Board… and I stared at it, every day. I never heard back from the owner of alisonsmith.com, but I kept tabs on it over the course of 2-months.
Then guess what happened…
At the end of 2-months, the man who owned the URL let it expire!! After 15-years of holding on to it, he let it go just at the moment when I needed it! Alisonsmith.com went up for auction, and I was up against 5 other people. But, I won…I truly believe it was meant to be: it came down to manifestation and action.
Now…back to how I started to create my business.
I knew that I wanted to create a website that communicated everything that I have done to help myself recover. And, I had a vision that I wanted to offer e-books, e-courses, and one-on-one coaching on how to live sugar-free and gluten-free, and how to start juicing and manifesting a healthy life.
I've never been one to get stuck in the dreaming state. But that's not to say that I don't procrastinate. I do a whole lot of that – especially when I'm in a state of fear.
Fear has definitely been a huge issue on my journey toward recovery and business building. My confidence level has taken a big beating since becoming sick. But, despite the fear, I'm moving forward.
I have huge dreams. And, now, I feel like I have something life-changing to work toward. Starting my online business has given me a clear purpose, and it has lit a fire in me that I'm so grateful for.
Q. Invite us into your world for a day: what does a day in your life look like?
I'm still in a state of healing. So, my first priority is getting enough rest. I wake-up around 7:45 am – I sleep for about 9 hours. I dress immediately. Dressing and doing my hair and make-up is a no-option policy for me that I've followed all throughout my illness. My rule for myself is: as long as I'm still able to walk, I'm go to get out of bed and get dressed everyday, no matter what.
I definitely have a long list of things on my Lyme Recovery Manifesto.
So, after dressing, I like to go straight to responding to emails. I love hearing from my readers – they're wonderful. And, I make a point of responding to every email and social media comment. Connecting with the people who are interested in what I'm up to is amazing: it really energizes my day.
Clean, healthy food is a priority in my life. And, all of my meals are made with beautiful, organic veggies from a local organic farm. I juice, every day, and love to experiment in the kitchen.
On my website, I create and publish digital inspiration graphics on Mondays, and two blog posts on Wednesdays and Fridays (Food Love Friday). I also regularly guest post on others' blogs. So, my day is mostly filled with writing, which is fabulous for me, since I'm a writer.
I always finish work around 3pm. And, I typically take a walk with my fabulous neighbour. I live right in the city of Toronto, near Lake Ontario. We love to take walks down to the beach and boardwalk. However, it pretty much looks like a glacier right now – it's been a snow and ice extravaganza this winter.
I would say that my days are quite structured. When you are in treatment for a medical condition, there is so much to do: making clean meals, juicing, timing your meds, meditating, connecting with the people who support you. And, at the same time, I'm creating a business, so I definitely have to be on a schedule, or I just don't get everything done.
My days are busy, but in a good way. I've had an opportunity to create a website that I'm very proud of…and I've done it all on my own (high-fives all around!)
Q. Where do you draw your inspiration from? And what motivates you to keep going with your best life?
I just love to read about women who are taking charge and taking action to create a life that they love.
When I began my website, I drew inspiration from Danielle La Porte (a fellow Canadian), Kris Carr, and Jessica Ainscough. I gravitate to the message that these women are sharing.
The art of taking action is definitely something that I learned at a very early age. When I was 16, my mother enrolled me in a goal-setting course created by Brian Tracey, a motivational speaker. I was also introduced to the teachings of Tony Robbins, which really struck me hard as a teenager. I still live by Tony's teachings, today.
I am motivated by the knowledge that I can change my life – no one else can do it for me. I just have to keep moving forward toward my vision of recovery and success.
Having a clear vision is key.
Q. What challenges have you turned into stepping stones & opportunities?
I experience challenges practically everyday: I have had a serious illness for almost 8-years now; I'm trying to start a business; and, I'm trying to create a successful website. My days are filled with trouble-shooting and research.
To be completely honest, I'm sure that the challenges that I experience are no different than any others': my challenges are just in a different form.
Life is all about challenges. They are absolutely unavoidable. I just choose to look at challenges as a puzzle to be completed. And, I love puzzles; they're so much fun!
Q. Have there been any ways of thinking you had to change or challenge, in order to step into the life you wanted? If so, could you share them with us?
There have definitely been moments when I thought to myself that I am crazy for wanting to start an online business based on my health experience.
I try to off-set these moments by reminding my inner mean-girl that others have done it before. I'm not re-inventing the wheel.
And, besides, I have very important information to share. There are thousands of people trying to reclaim their health that need to hear about what I've learned.
It's imperative that I acknowledge that I'm fearful, but I can't be paralysed by that fear – it's unproductive and soul-sucking.
Q. What do you think your best attribute has been to get you to this point? Specifically attributes that have gotten you through challenging times & moments of dis-belief, or have helped you bust through your comfort zone.
I think my best attribute, thus far, has been my ability to take action – no matter what.
Entering into any new endeavor or experience is like entering into the land of the unknown, and that's terribly scary and unpredictable. But I just keep reminding myself that I have to at least try. Who cares if it doesn't workout…at least I will have learned something useful in the end.
Action is the only way forward.
Q. What's the best advice you've ever received?
Creating a life that you love, and fulfilling all of your daily responsibilities, is not an easy process – it's messy and emotional.
Recently, I received advice about acknowledging my emotions, and honouring them. I don't need to push myself at every moment. I can still be on the path to success and creation, even when it's time to take a break and concentrate on how I feel. And, I don't need to say yes to everyone all the time.
It all comes down to Self-Love: caring for yourself and nurturing your body and mind is absolutely necessary so that you have the strength to build the life that you want, and the strength to be there for others.
Q. What advice would you offer others who are making changes to the way they live, so they can bring their own creative dreams into fruition?
I always advise my clients, friends, and family to, "Just do the experiment".
Whenever you decide to begin something new, or try something you've never tried before, you are ultimately experimenting to see if your efforts will be successful, and if you even like what you've decided to do.
The only way you are going to discover if something is right for you is to do the experiment. Just try it out.
Experimentation is simply the act of gathering data. And, small experiments are quite powerful. Once you successfully complete a small experiment, you gather more and more evidence that you have the ability to change, and you prove to yourself that you are capable of greatness.
Q. So where to from here? What is the next step for your best life?
So, my next steps are to continue on with my recovery by trying new holistic treatments. And, at the same time, I'm launching my very first one-on-one coaching program to the masses. I have a vision of creating a series of programs and an e-course that teach women how to transform their diet and lifestyle to reclaim their health, just as I did.
Building my business really excites me. My dream is to create a platform that provides me with complete freedom to live my life on my own terms.
Q. Is there anything else you'd like to share with our beautiful community?
Walk your talk. Build a life that is filled with the values and beliefs that you personally practice.
You are a unique individual, and you don't need to act out any charade. If you remain you, a tribe of grateful souls will gather around you – stay strong, stay true, and just fly.
"The only person you are destined to become is the person you decide to be" – quote by Ralph Waldo Emerson.
About Alison
Alison Smith Ph.D. is on a mission to promote self-care and self-love to those battling back to abundant health and happiness.
Schooled by her own journey back to vibrant health, following a 7-year battle with Lyme Disease, Alison is the creator of alisonsmith.com and the FREE e-book, Recharge Your Body: 52 Smoothie & Juice Recipes. Alison is a sugar-free & gluten-free coach who lives and breathes by the motto: Live healthy. Live happy. Live now.
Connect with Alison via alisonsmith.com + facebook, twitter and instagram.
___________________________________________________
Thank-you to Alison for this interview.
Her honesty and heart-felt sharing has left in all sorts of states: inspired, humbled, motivated, purposeful… and definitely compelled to keep going, one step at a time.
I'd love to know how Alison's words have made you feel too.
In the comments below, I'd love to know: what was your biggest take-away from Alison's interview and, what will you do now to create gold in your own life? 
Want more? Get the full catalog of Soul Wellness Interviews here.
Much love and soul wellness,
Melissa xx
Melissa Farrugia is the creator of Soul Wellness and a passionate shamanic kinesiologist, writer and teacher based in Elwood, Melbourne, and globally via Skype. Combining her formal training with a keen sense of intuition and life experience, Mel supports self-responsible souls who are at a growth point in their life, desiring to shift from feeling mentally, emotionally and creatively stuck, to feeling deeply connected and alive in the life they're living. Connect with Mel via the social media links and subscribe above to join the Soul Wellness community.
Latest posts by Soul Wellness (see all)