Self-knowledge is the ultimate power, and each guide I've developed is designed to ignite that spark of power within you.
Written to help you heal, come alive and embolden you.
Written to inspire your curiosity and ignite your intuition.
Written to fuel your intellect into service to your heart.
Each guide is designed to help you come to wholeness and communion with self, from the inside out.
In these guides, I've coupled my formal training, with my personal experiences, and provided frameworks for you to develop, overlaying your own stories, and unravelling your own mysteries in the process.
*Self-paced course available for instant download. $39.95 
31 Days of Soul Wellness is a self-paced immersion in clarity, connection and living life in flow, deeply from your body.
This course is delivered in eBook format (for instant access), video and audio, and was written in response to the hundreds of Kinesiology clients who would walk through the door at the beginning of their first session, feeling utterly disconnected from themselves, tired from living in a non-stop cycle of pushing for change.
31 Days of Soul Wellness  is about living in alignment with your body, day by day, to create a nourishing foundation grounded in holistic wellness. From this perspective, you begin to live in soul-flow; out of the rut of confusion, overwhelm and anxiety, and into rhythm.
For more information, to download the first 22 pages free + to purchase your copy of the course, click the following link: 31 Days of Soul Wellness: lessons in clarity, connection and living life in flow.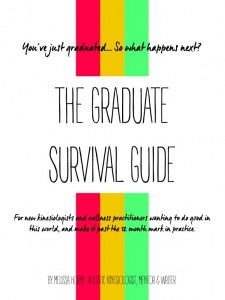 *Guide available for instant download. $24.95
How do you turn your incredible knowledge, wisdom, desire and passion for helping people, into a stable viable business which sustains the life you want?
You've been dreaming of living an inspired life as a Kinesiologist or wellness expert for awhile now, though how do you keep the dream alive when challenges keep cropping up?
How do you step out there into the world and become your vision?
The truth is, the first 12 months are filled with stumbling blocks, especially as the path forward is often a lonely one, filled with the unknown.
This Graduate Survival Guide eBook is tool-kit of all things I learned in my first year of practice, going literally straight from the classroom and into my very own practice space in Melbourne's CBD.
For more information + to purchase your copy of The Graduate Survival Guide, click here.