Do you need to re-set the foundations of your life?
A way to come home to your body?
Practices to still the input of the world around you, so you can connect with your wisdom within?
31 Days of Soul Wellness is a course that guides you back to your core sense of power, whilst holistically nourishing the foundations of your life.
It's a course that invites you into a fuller sense of yourself, and serves as an anchor for your personal growth.
It's a course you're able to return to repeatedly, so no matter where you are in your life;
// Self-aware and ready for the next step
// Stuck and seeking support to move forward
// Ready to re-set of the foundational elements of your life
You can ease-fully clarify and connect with your path forward.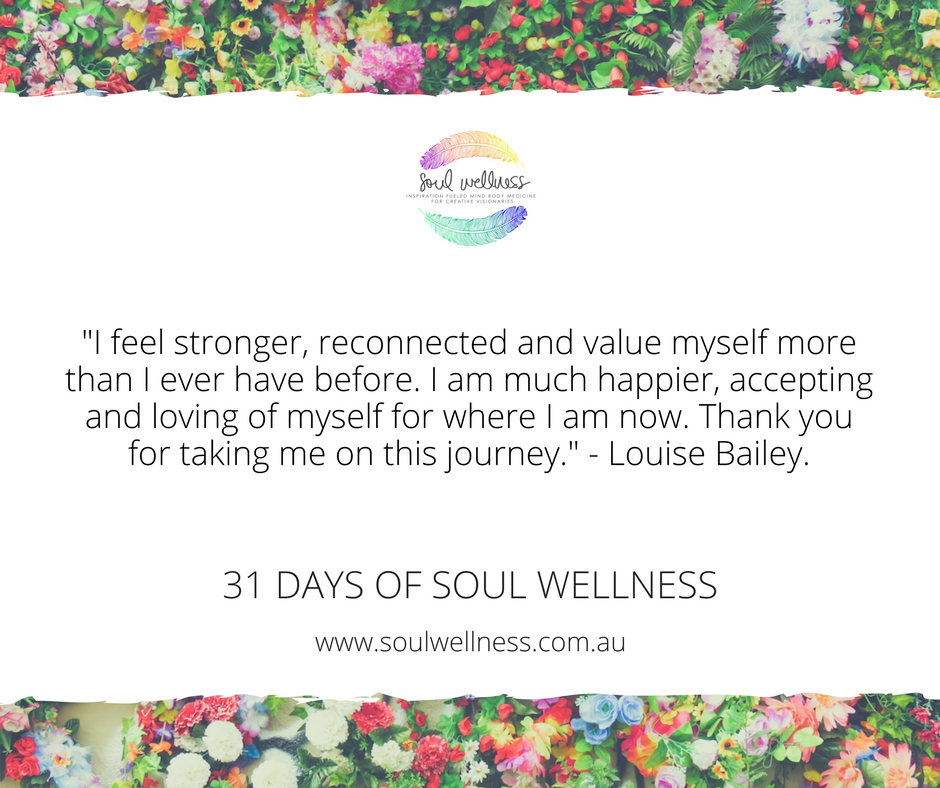 What is 31 Days of Soul Wellness?
31 Days of Soul Wellness is a self-paced course designed to ignite clarity, and activate self healing.
It was written in response to the hundreds of Kinesiology clients who would walk through the door at the beginning of their first session feeling:
// Disconnected from themselves
// Numb to life
 // Tired from constantly striving to meet expectations and goals
// Overwhelmed by an overdriven racing mind
Each person knew they needed to do something differently, to change the way they were experiencing life, though didn't know where to begin.
Sound familiar?
As I've taken myself through this course, I've discovered that is acts as a compassionate, supportive magnifying glass over my life, and into my body.
It enables me to become much more present, which means I'm more awake to my life, my body and what I'm creating.
I become more conscious of how I'm actually being in my life (as opposed to what I think I'm doing), so I can clean up the white noise and energy leaks.
I can also see the motivations behind my actions, which provides a choice-point: move on in the same way, or choose another path that feels more healthful and powerful for me in that moment?
This course is one big invitation to recognise where I'm showing up for myself, and where I'm not.
The power I've reclaimed from doing this work is immense.
31 Days of Soul Wellness is a day-by-day invitational course, which guides you back to the wisdom of your body. 
Throughout the entire course, the focus is on integration and sustainable growth, so that the effects of the work you do are naturally woven into your every day life.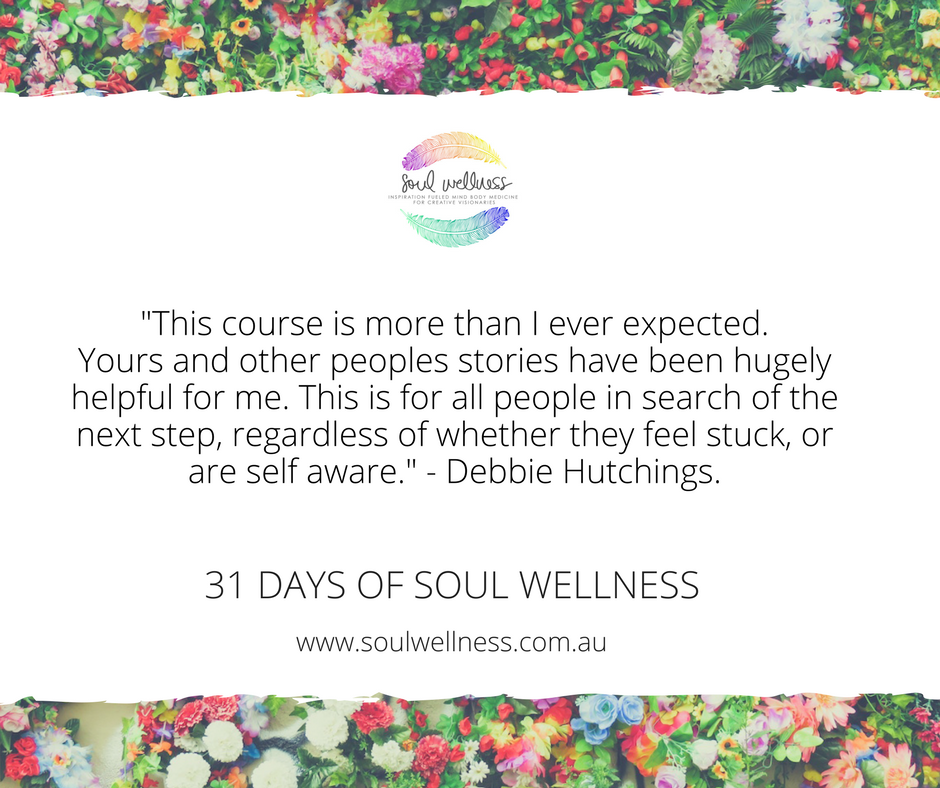 31 Days of Soul Wellness comes with integrated supporting resources, like audio files, interviews, and videos, so you can develop a sustainable holistic practice of well-being and connection to self.
What's Included:
160+ pages of guidance to get you clear and connected to your body wisdom + clarity and soul-sheets to feed your connection to self.
Supporting Resources, including interviews with these soulful women: Tammy Guest, Sara Brooke & Susanne Calman, experts in the fields of nutrition, meditation, reiki, vibrational medicine & yoga
Audio + video files which talk you through grounding practices, meditations and emotional de-tox release process. All to help you experience freedom and live with peace.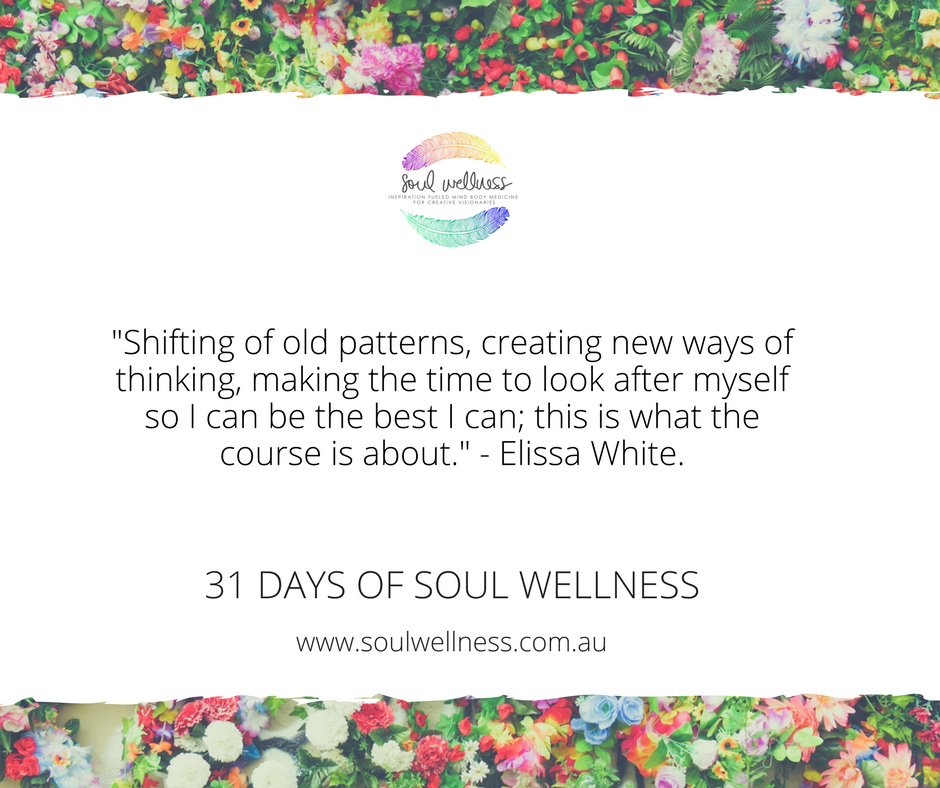 Click the following link to receive the first 22 pages of 31 Days of Soul Wellness absolutely free:
Sample – 31 Days of Soul Wellness by Melissa Farrugia

My intention is that 31 Days of Soul Wellness provides a beautiful space for you to delve deeply within yourself, create a curious joy filled relationship with your body + soul, a space which encourages nourishment of your life, through inspired & practical action.
During this self-paced course, I'll guide you towards where you need to go to get a place of peace, so you don't have to stumble forward alone.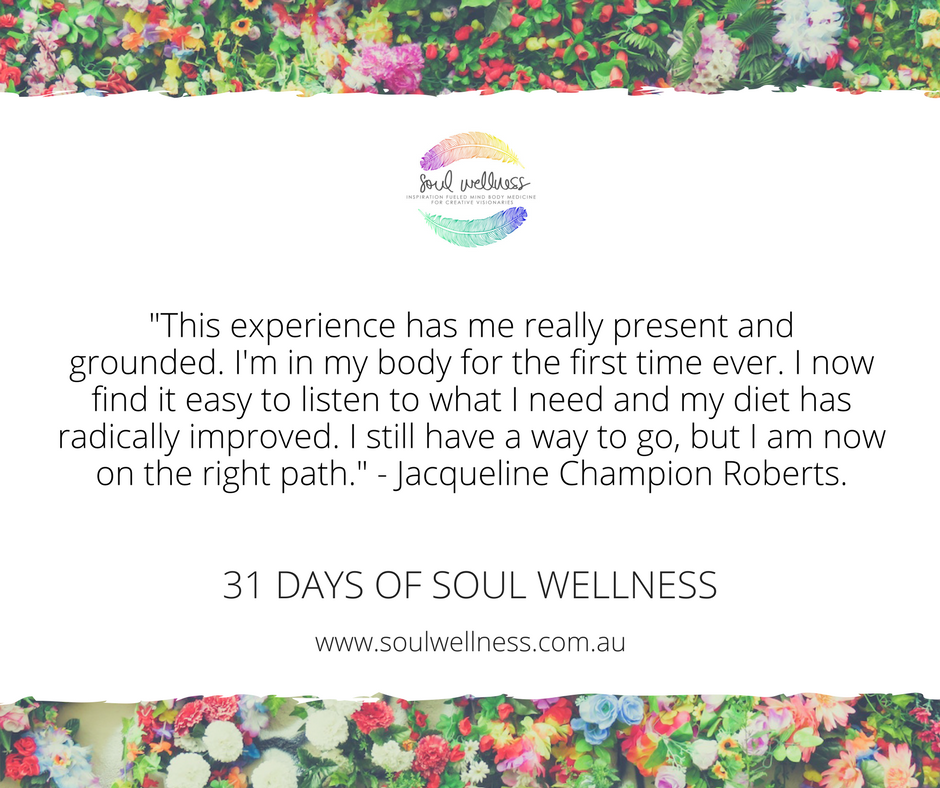 31 Days of Soul Wellness Is For You If:
You're feeling stuck, unclear and disconnected from yourself.
Know it's time to stop living from your head, and begin living from your heart.
You need to create space in your life by shedding mental, emotional and physical clutter that is holding you back. How you're living now just isn't working.
You're ready to up your levels of self-devotion.
You're time poor, and want a flexible program to help you make simple changes to up-level your life.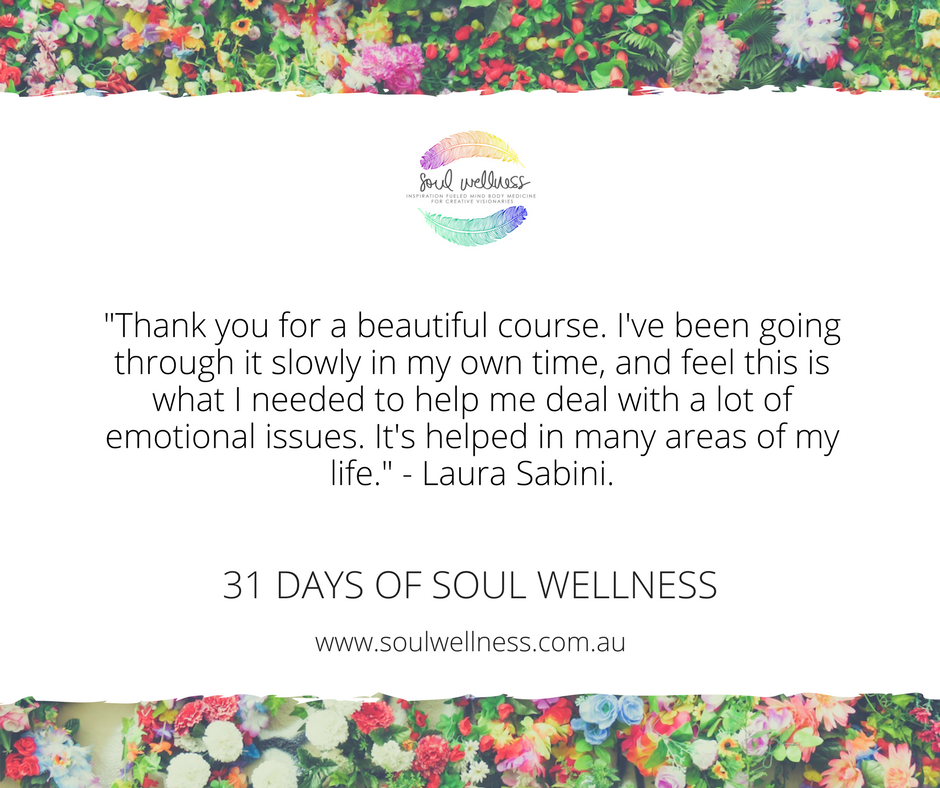 Purchase 31 Days of Soul Wellness
Investment: $67.00
To purchase 31 Days of Soul Wellness, and receive the course via instant download, click the button below
Need to get in touch?
Send your question or feedback via email to melissa@soulwellness.com.au, and I'll respond within 24 hours.
Much love and soul wellness,
Melissa xx