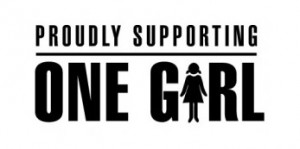 What's a world without connection, giving back, and supporting the causes you believe in?
Since August 2013, I've been a proud supporter of One Girl.
One Girl is an organisation that provides support and education to girls in Sierra Leone who otherwise may not have had the opportunity to attend school. They also focus on empowering women and girls so that they can create and lead change in their communities.
As the daughter of a woman who fought to further her education, so she could return to work and and fulfill her desires, education is something that is incredibly close to my heart.
This was a time that deeply shaped my childhood, instilling beliefs in dreams, resilience, self-responsibility, independent-thought, and the knowing that just because someone says you can't, doesn't mean you have to listen.
"When a girl is educated, she'll get married later and have fewer, healthier children. For every year she stays in school she'll increase her income by at least 10%. With the money she earns, she'll invest 90% of it back into her family.

An educated girl becomes an educated woman. A woman who ensures her children go to school, just like she did. When one girl is educated, she'll change the world."
source: www.onegirl.org.au
If One Girl is tugging at you right now, hop over to their site and check out their extraordinary work.